Last Autumn Rose
An Essay published on Absolutewrite.com in 9/11 Tribute To America.

By Joanne D. Kiggins

As I gather the fragile petals of the last autumn rose, I wonder if the beauty of that rose will appear again after winter plays havoc with its foundation. It reminds me that the world, everything and everyone in it, are just as precious and fragile.

It's been more than a month since the attack on America. The tragedy that has fallen on our nation has disrupted my thought process, rearranged my schedule, and changed my life. Much of the past month, I, as many Americans, have watched news broadcasts to keep abreast of new developments. A gamut of emotions has filled my brain each day. Fear. Sorrow. Disgust. Wonder. I try to focus on memories and peace.

For more than month I've heard the tiny feet of my two-year-old granddaughter pitter-patter through my house. On September 12, the army told my daughter and her entire base to be ready for deployment, and to implement their family care plans. My husband and I were called to the duty of guardianship and we prepared to whisk our granddaughter from her mother.

Watching my daughter's tears flow as we left her home was like watching the last autumn rose succumb to the fall frost. Each tear drop lingered for a second, and then, like each rose petal, fell to the ground, not knowing when or if that rose would return, only that it would be missed.

I still find it hard to hold back tears each day. Tears I shed for my daughter, my granddaughter, for all of us.

I remember while raising my two daughters that they were seldom out of sight. Even as they slept in the dimly lit nursery, I would tip-toe into the room, to glance, smile, stroke their soft cheeks, and be thankful they were complete, healthy and mine. I remember the pride I felt with their accomplishments as they grew to adulthood. No single word could explain my feelings of joy that each has given me, and continues to give me. No single joy gave me pleasure over another. Each memory, picture, smile, hug, and each "I love you, Mom" is etched in my heart to guard and cherish for the rest of my life. And each gives me peace.

I watch dimpled fingers point to familiar pictures as I read to my granddaughter. As I walk with her in my garden, she runs to the last rose of autumn. Her nose touches its soft peach form; she sniffs, giggles, and picks up a fallen petal. It brings me peace to realize my daughter has instilled in her daughter to appreciate and enjoy the beauty of small things that are often overlooked or discarded as unimportant.

I see her mother in her every minute of every day. I miss my daughter. I know she misses hers. As each day goes by, I know we are comforted only by memories and the peace of mind those memories hold.

Each day, caring for my granddaughter, I am reminded how I tried to instill in my daughter to take each day as it came and cherish the beauty surrounding her. Each day, I realize she listened.

The horrific act against our country has changed our lives. Life as my husband and I knew it no longer exists. The pitter-patter of tiny feet and squeals of an excited toddler now fill the peace and quiet of a once empty nest. However, one thing hasn't changed. We take each day and what comes with it, and cherish each moment. As I tuck her in bed each night and caress her soft cheek, I am reminded of those precious moments so many years ago.

I hope that everyone will keep close to him or her what is important as our country takes us through this campaign. Just as I'm certain the foundation of the rose has been strengthened by its yearly metamorphosis and will bloom in spring, I'm certain our nation will endure. As we pick up the fallen fragile petals, I hope that my daughter and granddaughter will be able to reap those memories, those joys, for years to come and hold them close in their hearts and minds as I have. I hope they, too, will stop and smell the sweet fragrance of the last autumn rose, enjoy its beauty, and the beauty of the world, once again, together. I hope this, for everyone.
Make me smile. Leave a comment...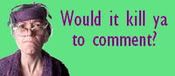 Comment Icon From
Paper Napkin