Long time since I've been here.
I can't believe I was so completely absorbed in taking care of mom that my world as I once knew it was obliterated for so many years. My apologies to all the wonderful people who faithfully read my blog; I not only abandoned myself, I abandoned you.
But I never abandoned mom. Trying to catch you up on all these past years would take a post so long that I doubt the blog could hold. So let me just say that I sit her after reading bits and pieces of this blog finding myself in awe of how I used to write and all the great people to helped me during those days.
For those who don't already know, my mom's struggle with Alzheimer's ended June 15, 2014. Yes, Father's Day. Just like I found my dad's death on the first day of Spring appropriate, I find my mom's death on Father's Day appropriate as well. She finally got to be with him to celebrate his day.
It's been over a year since mom passed and I still find myself walking around her house wondering what to do; start renovating this 100-year-old home, take time to grieve (don't think I've done that yet), or get my act together and try to pick up a life I've forgotten how to live.
Guess I'll get to work on all three challenges. But first I need to figure out who I am again.
So, I guess I'll do what always came naturally to me: Write.
Labels: Alzheimer's, struggle, grieve, write
Labels: Alzheimer's, grieve, struggle
Make me smile. Leave a comment...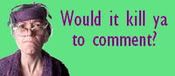 Comment Icon From
Paper Napkin