Getting That Christmas Spirit
I'm trying to get into the Christmas Spirit. I even put up Christmas lights in the windows in my rooms upstairs to brighten my spirit. I have nearly all my Christmas shopping finished. That's not saying much since everyone who knows me knows that I normally have my shopping done by August. At least, I used to.
I have everything wrapped and boxed and ready to send to Stacey and her family in Alabama. Hoping to get that in the mail tomorrow after Two and I deliver the live tree to the day care.
Today was Two's and my 6th Anniversary. He came down and had coffee with me this morning and after Mom was up and about he brought the Christmas tree upstairs from the basement and went home.
I spent most of the morning sorting through lights and chuckling because I was going through the same aggravation that Angel and Tim went through with their lights yesterday. Only mine was worse. I had all my lights working and had them on the tree, then, one minute the lights were lit and half the string was blinking and the next minute they lost their glow. I ended up taking all of them off and sitting for another hour fixing strings of lights. I finally got them working again and put them back on the tree just before dinner was ready.
I made a roast for an early 2:00 dinner and Two came back down to Mom's and ate dinner with us. After dinner I had planned for Mom and I to decorate the tree. She had no interest in helping decorate; she just wanted to sit and watch. I think she enjoyed me struggling with the lights. She laughed a few times.
Never before has it ever taken me so long to put up a Christmas tree. After it was finished, Mom and I had a light snack. She couldn't wait to go to bed and I couldn't wait to come upstairs to let loose the tears that I'd been holding in all day.
It felt so odd decorating the tree by myself. It was always a family project and there was always a lot of talking and singing and laughing. The only person there to share it with was Mom, who had no interest in what was going on. She didn't comprehend that Christmas was near, what the tree was for, and for that matter, I'm not sure she even knows what Christmas means anymore.
After a long hard cry, I sat on the bed and looked at the Christmas lights in my window. I'm not sure what this holiday season or the winter may bring, but the lights in the window helped brighten my spirit. I know that, if even for a moment, Mom enjoyed watching me decorate the tree, the time it took was worth it. When it was finished, she said it was the prettiest tree she's ever seen. For now, I'll take all those moments I can get.
Happy Anniversary Two! Happy Holidays to everyone. I'll try to post more frequently.
Labels: anniversary, Christmas, Christmas spirit, lights, moments
Make me smile. Leave a comment...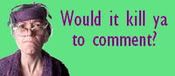 Comment Icon From
Paper Napkin