A Long Time Coming—August, September, October Update
I've had these writings in draft for quite some time, so they are a long time coming. Sorry I didn't post them sooner.
I'm having a really difficult time finding the words to catch up and I've been in sort of a funk lately. So, I'm going to jam the last few months in as quickly and shortly as possible. Yeah right! When were any of my posts quick and short? LOL I've at least kept in touch and let you all know I'm still around by commenting on your blogs. I really do keep all of you in my thoughts and prayers each day even though I may not be around much to mention it.
AUGUST
Here it goes. Stacey and her family left on August 1st to go back home to Alabama. Her birthday was the 3rd and I'm glad I called to wish her a Happy Birthday. That's all I'll say about that.
The first week of August, we struck a deal with a different logging company to use our log landing, as long as they cut in a driveway for our soon-to-be new neighbors who bought the property that connects to Mom's.
That first week was also the week we decided to let Ricky's cage door open and let him roam in and out. If he were to go back to the woods, then that's what is supposed to be. We nursed him to health and he was strong enough to be on his own.
Each evening we'd sit by the fire pit outside and call for him. Within a few minutes he crawled out from the bushes and crawled up Two's leg. He'd play with our dog and run back and forth on the swing between us, jump down and scurry off.
These were the last pictures of Ricky taken on August 7th.
He climbed up Two's leg, hugged his little white friend, climbed on my shoulder and gave me a kiss, then climbed on top of the swing.
The next night he didn't come when we called. Looking at the pictures now, I think he was saying goodbye to us.
At the end of that week, Stacey called and said she'd been to the hospital. She had a lump on her throat. It seemed to appear over night and was the size of a plum. They immediately suspected thyroid cancer and told her to see her regular doctor and have tests scheduled. It was another week before any tests were done. The next week was hell on everyone waiting for the results. They were inconclusive and the doctor recommended she see a specialist and have more thyroid tests done. Three weeks later and still no answer and the specialist couldn't see her until January 09. Stacey said she would call the specialist every day until she got an appointment sooner. Finally they set an appointment for the first week of October.
It's probably a good thing I gave in and took Mom to the ALF the last few days of July. I had to call them and ask if she could stay the whole month of August. I'd gone back to my doctor the last day of July because I felt much worse. He prescribed a stronger antibiotic, inhalers to puff on six times a day, and I was ordered to bed rest.
I spent most of the month of August in bed sick, in and out of sleep, or on the couch doing the same. Finally by the 25th, I was able to breath, without my chest feeling like a Mac truck was sitting on it, my doctor cleared me from bed rest and said I was lucky. When I asked if I could take a short two-hour trip on Labor Day weekend, he said I could as long as I didn't overexert myself.
Thank you to all who called to check on me. That was so very thoughtful of you.
I had four more days before the weekend and I planned to stay rested so Two and I could go to the last Powwow we planned to attend this year. It was in Columbus, Ohio. We left Friday the 29th. He danced his heart out. I watched mostly; dancing only a few dances. We'd planned to come home Tuesday, September 2nd but I started feeling lousy and we came home on Sunday the 31st instead.
SEPTEMBER
Monday, September 1st I took my time cleaning up a bit around Mom's and my house so everything was fresh and clean when I picked her up from the ALF on the 2nd. Monday when I swept the leaves off the porch, Mom's cat was sick. He was coughing and lying in the sun on the gravel along the side of the driveway. I made an appointment with the vet. They weren't able to see him until Friday.
I picked up Mom from the ALF on the 2nd. She was so very pleased to see me and happy that she was coming home. I took her dog to the groomer before I picked her up and we picked him up before I took her home. She was excited to see him, too.
Mom went back to day care on the 3rd and I picked her up early to take her for her doctor's appointment. Her doctor told me I'm doing a wonderful job with Mom and was glad to see I'd taken a month off from care giving. I told him I didn't have a choice—I had pneumonia. He suggested I take a week each month from now on and then asked if I was considering placing her. "You've done wonderful, Joanne, but it sounds like it's time you take care of yourself." I told him I'd let him know if I get to that point. He nodded and said, "Please take care of yourself as well as you do your Mom." I said I would try.
On the 4th, we found Mom's cat, Tig, dead alongside the driveway; his favorite spot for sunning himself. Two buried Tig before Mom came home from day care and she never noticed he wasn't around.
September 7th Two's Kawasaki Mule broke down. The front dry shaft broke. On the 10th, the Kawasaki shop picked it up for repair.
Finally, September 11th the doctor took a biopsy of Stacey's lump. He said the results would take 7-14 days. Good grief! It took five weeks just to get a biopsy! Now waiting another two weeks before any results. So much for catching things and getting something done QUICK!
September 12th I took my dog to the vet. She started limping a few days before and her limp was worse. An x-ray showed a small fracture in her shoulder. While I was waiting for the vet to put a full leg splint on her, Tim, Angel's husband called me. I knew immediately something was wrong. Angel was at the emergency room with chest pain. The next words I heard were "possible heart attack." The vet came in and saw me crying. My sweet little dog was all wrapped up and ready to go and he handed her to me.
So, after writing a check for $200+, I took her home and dropped her off with Two and headed to the ER to see Angel. On the way to the hospital, nothing I'd been through the last few months mattered; my daughters were having health problems now. I pulled off the road, cried, and prayed, "I don't know what you have in store for me, and I don't care, please just let Angel and Stacey be okay."
I sat with Angel at the ER for a little over an hour. The cardiologist came in and explained that her heart was fine. I don't recall what the name of the problem was, but it had something to do with her chest wall muscles. I'm so happy her heart is okay. It was a real scare for us since her paternal grandfather died from a heart attack and her father has had several heart attacks and by-pass surgeries. Angel was released that afternoon.
On the way home I thanked the Creator for a good prognosis for Angel and prayed Stacey would hear good news as well...SOON. With all that had happened from July until now, I couldn't help but allow the question to run through my mind, "What next?"
I got that answer on the 14th. Just seconds before the Steelers kick off at 8:00 PM, the power went out from the high winds we were having. Thank goodness Mom had already been sleeping for a few hours. She had no idea the power went out. For fear that I wouldn't hear her, since the monitor wasn't working, I went downstairs and tried to sleep on the couch. If you saw my Mom's couch, you'd know why I didn't sleep a wink that night. It's a 70's (maybe even a 60's) couch. It's hard and itchy, with a rough rug-looking print, and uncomfortable as sitting on a wood step with gravel on it. But it's in perfect condition. LOL
On the 15th, I took Mom to day care. They did have power; one of the few scattered places in the area that did. I called the ALF and asked if they had a bed for Mom. They did and I told them I would bring her in after day care the next day if the power didn't come back on. Mom faired fine Monday evening at home. I was on the couch again. Tuesday I took her to the ALF after day care and promised I would bring her home as soon as the power was on. I didn't feel comfortable keeping her home since there was no water, light, and no way to cook. It's one thing for me to walk around in the dark, snack on whatever might be available, and rough it for a few days, but Mom needed to be where she would be safe—physically and medically. The power came on at my house late Wednesday afternoon. When I went to Mom's to check it, the power was still off. That didn't make sense to me since my power lines came from the pole by her house. I called the power company, but with all the outages in the area, I received only a recording. Thursday, I finally got through and they said they'd have someone out by Saturday. I went to see Mom and told her she would most likely be there until Saturday. She was fine with that and went back to playing cards with the ladies.
On Saturday the power company came and said there was electric to the pole but there was still no power to the house. After they checked further, they found the line had been loose on the side of the house. Once they shored the line, we had power. I picked Mom up and brought her home. Good thing was that Mom was safe and our power was back on. Bad thing was we lost everything in all our freezers.
September 27th, Mom and I went to visit my Uncle Joe at the nursing home. It was his 83rd birthday. He loved his new shirts and pants we bought him. I served everyone on his floor a piece of the sheet cake I took in for his birthday.
The 28th was Two's birthday. I baked him a cake. Trish, Gabe, Evan, Bob, Cecilia, and Landon came to visit him. Trish and Bob are two of Two's six kids and Evan and Landon are two of his eleven grandchildren. It was good seeing all of them again.
OCTOBER
October started with about the same trend of the last few months. On the 1st, the riding mower broke down just as Two made the first pass of Mom's yard. I called the mower service and they picked it up that afternoon. After they left, I sat and had a very long, hard cry, again. It seemed everything was falling apart; me, my daughters, the mule, the mower, the power—one thing after another. I wouldn't let my mind entertain the question, "what's next?" Instead, I said, "That's enough. I give up. I'm tired and I just don't care what's next."
I think the "I don't care" attitude must have changed things a bit. On October 2nd, Stacey called and said the biopsy was negative and she would have to have it checked periodically to make sure it stays that way. I was so happy that she finally received results and it was good news. Both my daughters are going to be okay. On the 3rd, both the mule and the mower were fixed and delivered back home.
Angel, Tim, Katie, Two and I took Mom out to lunch on the 5th to celebrate her 85th birthday, which would be on the 6th.
The rest of October was pretty quiet. We went to see Uncle Joe a few more times and Mom dressed up as a cook for the Halloween party at day care.
All in all, October wasn't too bad.
Labels: birthdays, bronchitis, Halloween, Heart, Kawasaki Mule, pneumonia, powwow, thyroid, Two Feather
Make me smile. Leave a comment...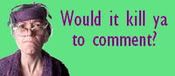 Comment Icon From
Paper Napkin