Respite: Sort of Like Spring—A Breath of Fresh Air
Sorry to keep you all wondering and worrying. I'm back.
Spring has sprung. The daffodils are blooming and being forced to take a break from care giving was like a slap in the face but turned out to be a breath of the spring's fresh air.
Mom's doctor has been telling me for two years to take some respite time. "You're doing a fine job of caring for your mom, but you need to take care of yourself," he said. My answer was, "I take her to day care." Being one of the better-known doctors in the Alzheimer's and geriatric field in this area and knowing I've been living with and caring for Mom for more than three years he said, "That's not enough. You NEED to take a few weeks every three or four months to recoup your strength and get some needed rest from sleep loss and stress."
That is "the" one thing every caregiver tells another and we all nod our heads and continue to go on one day at a time, putting off our needs, burning the candle at both ends, and hoping for a better tomorrow.
I, like many of you, took/take much better care of our loved ones than we did/do ourselves. When energy levels became low, we pushed forward knowing that in another one or two hours we might be able to prop our feet up for an hour or so before the next need arises. Probably like many of you, I always take my showers when I hear Mom snoring the loudest. I know then she is in a deep sleep and I can rush through my shower and get dressed before she might awake or I'll take clean clothes to my house and shower there while she is at day care. Never can I take a shower when she is awake for fear that she will get into something and get hurt or possibly fall. We all know that caring for a loved one with Alzheimer's is more difficult than caring for a child. An elderly person who has been independent their entire life is much more difficult to handle than a toddler—our loved ones are bigger, stronger, more demanding, and vocal than a toddler. Let's face it, it's easier to tell a toddler they shouldn't do something that may hurt them than it is to tell an 84-year-old they shouldn't do something they've done for longer than we've been alive. Switching roles of child to parent is no easy task. We sleep with one eye open for wandering shadows and ears tuned for sounds of breathing. There is no body replenishing sleep for a caregiver and all too often the adrenalin runs out, nutrition is poor, health problems arise and the caregiver dies before the person they are caring for.
When my tests results came back, I wasn't surprised—at least with most of them. My rheumatoid arthritis is worse and my fibromyalgia is grandstanding the arthritis. No surprise there. Cholesterol levels that my doctor had been amazed were always fit for a twenty year old suddenly changed to worse than Mom's. Blood pressure that was normally always on the safe low side is now what is considered normal for others, but high for me. My nutrition level is…well…almost nonexistent. I have a ganglion cyst on my wrist and my knee. The quarter of a stomach I was left with 35 years ago after surviving stomach cancer has turned into an ulcer, and I'm anemic. There was something wrong in one of my blood tests, don't ask me which one because I don't know, but as a result I've been to visit my dear old oncology doctor who took care of me 35 years ago. I was given only six months to live back then. He also treated me three years ago when I had a blood abnormality. That was a few months after I moved in with Mom and the abnormality ended up being a tumor the size of a grapefruit and me having surgery to have it removed along with my ovaries. I drove to the hospital and Mom and Two Feather sat in the waiting room until it was over. After recovery, we waited a few more hours until I wasn't in a fog and I drove home to continue taking care of Mom.
The good old doc was as shocked to see me then, as I was to see him. He looked as old as dirt when I was 20—funny how he looks exactly the same all these years later. LOL All joking aside though, he's still testing my blood and trying to figure out what the abnormality is this time.
Needless to say, after all the test results, my doctor told me I needed to take a break from caring. He told me to take a month. I took almost two weeks. Even though I'd talked with Mom about it and finally got her to understand I needed a break and she was okay with it, the day I took her to the assisted living facility she was livid with me. She refused to speak to me, hug me or say goodbye. I knew that was going to happen and I'm glad I'd prepared myself for it.
I admit I was exhausted. I knew that before I set up the respite care. I just didn't realize how exhausted I was until I woke up some 36 hours after I sprawled across my own bed at my house.
I kept telling myself before I took Mom that I could sleep without having to listen to the monitor, sleep without having to get up every few hours, sleep without having to get up early to take her to day care, sleep without having to watch the clock to make sure I picked her up on time—I could sleep without having to worry about Mom because I knew she was in good hands. My little talk with myself worked like a charm and I woke up feeling refreshed for the first time in three years.
All week I enjoyed the comforts of my own home and enjoyed the company of Two Feather. We'd wondered how different we would act being in the same house 24/7 again after three years of being separated. To be honest, we were concerned that we might not know each other anymore. It was a great relief to know that though we knew it was only for a short time we'd be together we fell right back into the pattern we used to have. It felt odd to go shopping at Wal-Mart after dark. Heck, it felt strange to be anywhere after 5:00 in the evening.
We didn't do anything special or go on a vacation of any kind because I was too exhausted to drive any long distance. The time we spent together and the relaxation I enjoyed sitting on my couch watching the evening news together and sitting on our deck talking over morning coffee was worth its weight in gold.
We enjoyed a few hours at a Maple Syrup Festival at a local park with my daughter Angel, Tim, and Katie and we went out to dinner with them on another night. It felt strange, but wonderful, to have that freedom to just walk out the door spontaneously and do something—anything different.
I was told not to visit Mom while she was there because it would confuse her, she'd cry and beg me to come home, and it would defeat the purpose of the respite care. I did call to make sure she was doing okay and I talked to her mid-week to let her know I hadn't abandoned her.
I called my brother to let him know I had placed Mom in an ALF so I could get some respite time. That turned out to be an argument with him thinking I should have consulted him first. When I asked why I should consult him he said, "maybe we could have worked something out. I could bring her up for dinner or take her for a weekend."
I told him that a few hours for dinner wasn't going to help me at this point, and neither would a weekend. Then he said he was shocked and I asked why. "Because you said you were never going to put her in a place 'like that'," he said. I told him the place was very nice and he shouldn't be shocked that I'm finally taking a break after three years. He reminded me that all I had to do was ask and he'd try to work something out, so I asked him to take her for a weekend in May, from Thursday evening to Monday morning, because Two Feather was asked to set up his Native American art stand at the popular Nationality Days in our area. He said he'd let me know after he checked with his wife.
Angel visited Mom several times and reassured her I'd be there to pick her up last Sunday. My brother visited her several times as well.
Saturday was a beautiful day but a sad one as well. It was the last full day and night Two Feather and I would spend together and we both had a difficult time holding back our emotions. We agreed that the respite time was good for me and I did get somewhat refreshed and it was good for us to spend quality time together without having to stop what we were doing to take care of Mom. We also agreed that I needed to listen to Mom's and my doctor and continue to take periodic respite in order to reenergize myself and get a small part of our life back.
After a week, I called my brother to ask if he had talked to his wife about the weekend I'd asked for and he said he could do it Thursday through Saturday, but not Sunday and he asked if he could take Mom to day care on Thursday and Friday. I told him that he was only going to have her Thursday after day care and he could take her to day care if he used his wife's car, but since he couldn't do it through Monday morning to forget it. Then he argued with me about the dates of the festival and repeated that he couldn't do it Sunday. Geesh!!! That turned into another problem. Two Feather said to tell my brother to cancel his plans on Sunday. After all, Two has cancelled his life for the past three years. Well, needless to say that didn't go over well with my brother and we ended up in another tiff. He said he didn't ask Two to do anything and I'm the one who chose to take care of Mom. I said, "You're right. Two does everything Mom's sons should be doing at Mom's and he helps me because that's the kind of man he is, and I chose to take the responsibility of taking caring of Mom so I'd take the responsibility for that weekend too. I told him to forget about the weekend. Then he said he had to talk to a few other people and see if he could do it Sunday and he'd call me Monday or Tuesday. At that point, I said, "I don't know what your plans are and I don't care, but if you can't make a decision about helping with Mom without asking someone else, just forget it!"
Granted my emotions were running high because it was the last day I would spend at home, but I either have a commitment for help or I don't. I'm not going to change what plans I'd like to make to fit everyone else's schedule.
When I picked Mom up on Sunday she was happy to see me. She had the biggest smile on her face and held her arms out to give me a hug. She helped me fold and pack her clothes and within 30 minutes we were heading out the door back to her house.
Once we were home, she didn't recognize her house at all and asked how long she would be staying here. Not that she really knows the house is hers anymore anyway, it was just sad that she asked how long she'd be there. She told me all about the nice ladies she met and what a great time she had. One day they went to the local mall for Senior Day and another day they went to the local high school to see the play Annie. She fit right in once she was there for a few days.
Monday, my brother called me and told me he worked it out so he could keep Mom on Sunday, too. I hate to say it, but that led to the biggest argument we've had. We were on the phone for nearly and hour and half dredging up past garbage—me explaining why I feel the way I do about a lot of things and telling him things about my life that he never knew, and him not remembering 80% of the occurrences I spoke of, and not agreeing with the other 20% of what I was talking about. The stress caused by that conversation left me feeling like I needed another week's respite just to get over it.
Tuesday morning, I called him and called a truce. I told him I wasn't in the best of health right now and the last thing I need is stress from arguing with him on top of the caregiver stress. The discussion/arguments we've had were worth it. I was honest and open about everything whether he believed me or agreed with me or not. We've finally agreed that we have nothing in common, except Mom and we don't get along. All I asked from him was to speak to me decently and quit using a sarcastic and combative attitude toward me about everything. When it comes to me, I know my brother always thinks the worst. I'll never know why, but it's nice to know that he was pleasantly surprised that his sister has a better head on her shoulders than he thought. He actually complimented me on the ALF I picked for Mom.
All in all, the respite was wonderful and it may have actually been the straw that broke the camels back with these petty fights he and I have been having. At least I hope so.
As for those who are still in the midst of care giving, please don't be as stubborn and procrastinating as I was about making arrangements for your loved one to stay in an ALF for a week or two to obtain some respite care for yourself. You're the only one who can take care of yourself. Respite is like a breath of fresh air! Please don't just nod your head when someone says to take care of yourself and wait until your health begins to fail before you take that break. If you die before your loved one, who will step into your shoes?
Labels: Alzheimer's, Angel, assisted living, caregiving, Mom, Respite Care, sleep, spring, Two Feather
Make me smile. Leave a comment...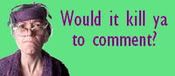 Comment Icon From
Paper Napkin