Daughter Without a Name, Ice Storms, & Wishing for Spring
Last weekend was a bit crazy and the week that followed wasn't much better. I posted book reviews instead of talking about the goings on here at Mom's. Last Sunday when the lady from church was here, she and Mom were talking about family. Mom told her that she had a sister and two brothers and her two brothers were still alive and work together. Alrighty then. Truth is, Mom had one brother and he's been deceased for more than thirty years. Sunday, I also realized that Mom does know that I'm her daughter, but she had forgotten my name. Every day when I pick her up at day care and she sees me, she says, "There's my daughter." Sunday, after the lady from church left, Mom and I were talking. I figured I'd do the little memory quiz that I used to do once every couple weeks. I haven't quizzed Mom for about two months. At least once a month I would joke with her and ask if she knows who I am and she always said, "You're my daughter." Never thought to ask her if she knew my name. I asked her birthday, address, phone number, all of which she didn't know the answer. She did remember she was born in October, just not the day and year. I asked her how many kids she has. She did say three. That's correct.
"What are they?" I asked.
"I think I have three boys," she said.
I giggled and said, "If you have three boys, who am I?"
"You're my daughter," she said.
"Okay. So you can't have three boys if you have a daughter, Mom."
"I guess you're right."
"What are your kid's names?"
"I think they are Bob and Ray."
"What's my name, Mom?"
She looked at me with such shockingly sad eyes and said, "I don't know. What is your name?"
"Joanne. My name is Joanne, Mom."
I knew one day Mom wouldn't know who I am and I prepared myself for it. I guess it just shocked me that she knows I'm her daughter, but has forgotten my name. I tried to think back to when and how long it's been since she's called out to me by name, and I pinpointed it to mid-October when Mom was up and down half the night looking for Mr. N. She would call out to me by name back then, yelling up the steps, "Joanne, are you up there?" She hasn't called me by name since. Mostly, I'm "her daughter" when she talks about me, and when she talks to me, I'm "honey" or I'm not addressed at all before asking something or looking for me. Wow! It very well could be that she hasn't known my name for more than three months. We've gone through a few moments at times when she wasn't sure who I am. I've already mentioned those times. Strange, but I think I accepted the fact that she would someday not know me at all more than I accepted her not remembering my name. The two just seem to go together, but I never imagined she'd remember who I am and forget my name. Then again, she can't understand how my daughter is her granddaughter, so I don't think I want to ask if she understands what a daughter is. LOL
After realizing Mom didn't know my name, the whole darn following week just kept getting worse. It was all sort of depressing, actually. I did log in long enough to post a "Happy Birthday" to my dad. That was part of the depressing week. The other part was that I felt lousy. I'm not running a fever and I don't have a cold. I just felt tired and worn out. My muscles ached more than usual and my legs and knees are killing me. Mom may have Alzheimer's, but she can certainly pick up on my emotions no matter how hard I try to hide them. She knew I wasn't feeling well and she kept asking me if there was anything she could do for me. I didn't have the heart to tell her that if she would sleep all night long it would make a world of difference in my longevity.
By the end of the week, I still wasn't feeling any better. Thursday I just curled up on the couch and slept after taking Mom to day care. Two and I watched a movie and I trudged through the day as if I were a zombie. The weather report showed an ice storm coming through and we were supposed to get hit after midnight. Two and I prepared for not having the day together on Friday.
Friday morning I got up at the usual time. I went downstairs, let Mom's dog out and he slid off the porch and onto the sidewalk. The porch and sidewalk were solid ice. I got the salt out and sprinkled it over the porch and sidewalk and tested the gravel drive with my foot. It was like an ice rink. These pictures don't show the ice as well as I would have liked. The bushes, power lines, absolutely everything was iced over. Nothing like you guys had in the northwest and central part of the states last month, but still scary on this hill just the same.
I called the day care and they said they were open but I had to tell them that Mom wouldn't be coming in because we couldn't get off our hill.
I'll drive in a foot of snow on Mom's driveway, but there is no way I'll drive on ice. You've seen pictures of my Mom's driveway. It's steep and winding. It's a beautiful site when the leaves are changing colors and the sun is shining through the clouds, but there's no way to stop on ice, unless of course you want to slide over the 50+-foot embankment and crash to the bottom. Nope. Not me. When it's ice, I stay home—and so does Mom.
The ice didn't thaw from the porch, the sidewalk, the drive, the power lines, and the trees until 4:00 Friday afternoon. Then everything that thawed on Friday froze overnight and left an icy mess this morning, too. I think we may get out of here on Monday morning as long as it doesn't rain and freeze again.
Am I wishing for spring? You're darn right I am!
Back to reading and writing my book reviews.
Labels: Alzheimer's, daughter, ice, ice storms, jdkiggins, longevity, Mom, spring, tired, Two Feather, worn out
Make me smile. Leave a comment...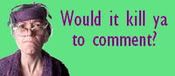 Comment Icon From
Paper Napkin