Tiny Tests of Integrity
Sometimes I think that we are all being tested during our time here on earth. Are we tested for our strength? Not our physical strength, but our inner strength. Our strength to endure things that we never thought we could endure. Are we tested for our love? Not our physical love, but our love of others, love of nature, love of all the blessings that have been bestowed upon us. Are we tested for our blessings? Not the blessings we receive, but the blessings we can bestow upon others. Are we tested for our knowledge? Not knowledge in the sense of how smart we are, but knowledge in the sense of whether or not we realize how many wonderful gifts we've been given: gifts of strength, endurance, love, and all the blessings that come with them.
Are we tested for our honor and integrity? I think we are. Throughout life, I've seen myself go through many tiny tests of integrity. It's the simple little things that many people wouldn't think were tests at all that I believe are tiny pieces of our big picture. It's those simple little things we go through each day in our life and the choices we make that mold us into who we are and state whether or not our integrity is still in tact.
I went to the bank yesterday to make a deposit for my uncle and cash a few checks I received in the mail last week. I had the total of the checks, $105, stuffed back in a corner of my brain behind the list of errands I wanted to complete. As I waited for the teller to punch the keys of the keyboard on her computer, my brain was overflowing—thinking of the next thing on my errand list. I glanced around at the people in the bank, nearly a dozen, and casually watched them converse with other bank employees. When the teller came back to my window, she handed me my deposit receipt and counted out the money from the cashed checks. My mind swung back to my errand list as she put the money in an envelope and handed it to me. Normally, I count the cash again, right at the window in front of the teller, but I was anxious to get my errands completed, and I stuffed the envelope into my purse.
I walked out of the bank, opened the car door, and Two Feather asked me what was wrong. "I don't know, maybe nothing," I said. Something didn't seem right to me as I walked out of the bank, but I couldn't pinpoint what it was. I guess the expression on my face showed I was unsure of something. I put my purse on the seat and pulled out the bank envelope. "I think the teller counted wrong," I said. "I was in a hurry and wasn't paying much attention, but I think she gave me too much money."
"You didn't count it before you left the window? You always count the cash before you leave the window," he said.
"No, I didn't. I don't know why. I was thinking of everything we had to do today."
I pulled the cash out of the envelope and counted it. There was $145 in my hand. I put the money back in the envelope, went back into the bank, and called the teller over to the side. I told her I had three checks that totaled $105. She went to her station to pull out the checks and said, "Yes, it was $105." I told her she had given me too much money. She looked at the checks again and said, "I thought I'd missed a check. I must have ran it through twice." I handed her $40 back. She thanked me as she looked at the checks and her copy of the receipt and shook her head. She thanked me again before I walked out the door and I heard her telling the employee next to her, "You don't see that type of honesty too often." I turned, smiled, and said, "Happy New Year."
I was still smiling when I got in the car with Two Feather. With the way the world is today, I wondered how many others would have returned the money once they realized the teller's mistake. It felt good to know that my integrity is still in tact.
Labels: blessings, jdkiggins, Love, Strength, Tests of Integrity
Make me smile. Leave a comment...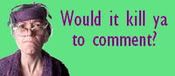 Comment Icon From
Paper Napkin