Turkey Heads Back To The Woods
On Wednesday morning when I was ready to take Mom to day care I noticed a turkey hobbling through the snow in the front yard. I watched it flap its wings and move a few inches through the snow and fall. I'd watched this very same turkey all spring and summer scratch for food in the yard. The reason I know it was the same turkey is because it couldn't fly. It had no tail feathers. It was using its wings to make its way into the woods for shelter from the cold. I got out of the car and watched it hobble and wing itself down the hill behind Mom's house and settle beneath a tree and fallen branches. I knew if the turkey weren't able to walk and scratch for food, it would die.
When I got to my house that morning, I told Two Feather about it and we rode down to Mom's to see if the turkey was still there. We walked down the slope just behind the house and there she was, huddled beneath a pile of brush. She was still alive.
Two and I walked up to it and when we got within just a few feet of her, she pushed herself off the ground and hobbled down the hill using her wings for balance. She was a fast ball of feathers, but not fast enough for Two. He ran down the hill and grabbed her before she crawled beneath another pile of brush. He carried her up the hill and we took her home.
She had a broken leg. Two put a pop cycle stick splint on her leg and taped it so she could heal. All day Wednesday and Thursday, he fed her birdseed and was able to get her to drink water. He kept her safe and warm in the shed out behind our house. Thursday she was a bit spunky and got up on her foot and ran around the shed. This morning when he went out to the shed to feed her, she was standing by the door waiting for him.
This afternoon we rode back down Mom's with her in his lap. He held her for a moment, stroked her head and set her free back into the woods.
The splint he made seemed to be holding up very well. I wasn't able to get another shot of her as she ran down the hill behind Mom's house. I hope she makes it through the winter. We'll know next spring if we see that funny looking turkey without a tail.
Labels: broken leg, free, jdkiggins, splint, turkey, Two Feather
Make me smile. Leave a comment...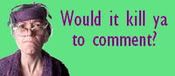 Comment Icon From
Paper Napkin