Alzheimer's—A Sad Journey Ends Tragically
Man, 75, kills ailing wife, then himself, inside hospital.
The local news aired this shocking story today.
A man and woman's 52-year marriage ended tragically last night when Mr. Riddle, 75, shot and killed his wife, Shirley, in an intensive care unit of the UPMC Hospital in Cranberry Township, Venango County.
Shirley, 74, had Alzheimer's disease and according to their daughter, Mr. Riddle had taken care of her at home until five days ago when she fell, injured herself, and was admitted to the hospital for surgery.
According to state police, Mr. Riddle walked into UPMC yesterday, killed his wife with a revolver and turned the gun on himself. He left a note at their home stating that he could no longer permit his wife to suffer.
The
complete story
is online at the The Post Gazette.
This is just so sad.
Labels: Alzheimer's, jdkiggins, Man Kills Wife, tragic
Make me smile. Leave a comment...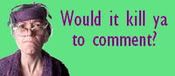 Comment Icon From
Paper Napkin