Safely Home by Priests of the Sacred Heart
I normally don't talk about or post religious things but this has me stymied. I cleaned off Mom's dresser on Saturday and the only things left on it were her jewelry box, a few pictures of her and Dad, her handkerchiefs, and her hairbrush and comb.
This morning, the same things were on the dresser as were last night. I spent the entire day with Mom, never leaving her side. She never went to her bedroom all day and we had no visitors.
This evening, when I put her to bed, I found a card on her dresser. This card was not even part of the mess I cleaned off her dresser. It's an old yellowed card from the Priests of the Sacred Heart Monastery that my dad used to contribute to each year.
Here is the front of the card.
The back had this poem on it. I don't know if it was a sign or if it was just there to be shared. It touched me, so I thought I'd share it with all of you. It says so much about death, grieving, and life.
Safely Home
I am home in Heaven, dear ones;
Oh, so happy and so bright!
There is perfect joy and beauty
In this everlasting light.
All the pain and grief is over,
Every restless tossing passed;
I am now at peace forever,
Safely home in Heaven at last.
Did you wonder I so calmly
Trod the valley of the shade?
Oh! But Jesus' arm to lean on,
Could I have one doubt or dread?
Then you must not grieve so sorely,
For I love you dearly still:
Try to look beyond earth's shadows,
Pray to trust our Father's Will.
There is work still waiting for you,
So you must not idly stand;
Do it now, while life remaineth—
You shall rest in Jesus' land.
When that work is all completed,
He will gently call you Home;
Oh, the rapture of that meeting,
Oh, the joy to see you come!
Labels: death, grieving, jdkiggins, Life, Priests of the Sacred Heart, Safely Home, share, touched
Make me smile. Leave a comment...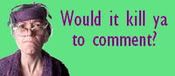 Comment Icon From
Paper Napkin