It's Beginning To Look A Lot Like Christmas
It's Beginning To Look A Lot Like Christmas
...at least outside!
This is Perry Como in 1958. I got a kick out of watching the video since I remember the old black and white shows. Thought you might enjoy it too. Sorry for the link, but I don't know how to post the YouTube box right on the blogger.
I have to get myself out of this slump I'm in, so the only thing I can think to do is force myself to get things done. Last night I made a list of things to do today and Sunday and I've nearly completed the list already.
First thing on the list was Mom's shower. This morning when I got Mom out of bed we headed straight for the bathroom. She wasn't very pleased that she had to take a shower and wash her hair again, but cleaning up at the sink just doesn't do the job. She was a bit more agreeable with taking the shower when I told her she was beginning to smell. "I don't want that," she said. She didn't say anything during the shower except that she was cold, and of course the heater was blasting and I was sweating. ;)
When she was clean and dry I weighed her. In September when she was in the hospital she weighed 171. On November 19 when she was at the doctor she weighed 153—a loss of 18 pounds in two months. This morning she weighed 142—down another 11 pounds. She's lost 29 pounds since September 18—that's approximately 10 pounds a month. As the doctor suggested, I've been giving her Carnation Instant Breakfast, Ensure, puddings, and yogurt. She's still feeding herself, but she doesn't eat much. He told me at the last appointment not to bother with the diabetic diet anymore because at this point I just need to try to keep giving her nourishment and he'd rather see her glucose levels a bit higher than to have them plunge to lower dangerous levels. Even with all the weight loss she looks great.
The second thing on the list was to clean off all the junk on Mom's dresser and throw away all the old lotions, bottles of old nail polish, lipstick, and fragrances that have done nothing but collect dust on her vanity for the past three years. Once I sorted through all that and threw out what wasn't needed I gave both the dresser and vanity a good dusting.
Next on the list was to go through her clothes closet. Since she's lost weight, I slid all the clothes that are too big into the back corner of the closet and took all those she can now fit into and threw them in the washing machine. She now has a whole new wardrobe to wear. LOL
She's not reading anymore, so I took all the piles of books beneath her roll-top desk in her bedroom, put them in boxes, and placed them on the sun porch with the rest of her books.
Then I sat down with her at the kitchen table and addressed Christmas cards. She signed a few and didn't want to do it anymore, so I finished the rest.
After finishing the cards, Mom and I went into the living room and I put her small tabletop tree on the end table. I put a few ornaments on and asked her to finish it. She only put two ornaments on and was tired and had to sit down.
I'll probably find another string of blinking lights and a bit of garland and put them on tomorrow. She still didn't grasp the whole Christmas thing, but she liked watching me "work" as she called it. LOL She watched me put the rest of the ornaments on and she wanted to go to bed.
The last thing on my list is wrapping the presents that I bought yesterday. I'll wrap all those after I post this and I'll be finished. I doubt I'll decorate much more. All my shopping is finished and I even have a turkey breast and ham in the freezer for Christmas dinner and pork for New Year's. Figured I'd better get all the fixings for both meals because I'm not sure how the weather will be in the next couple weeks to go shopping again.
It's snowing right now. So far we already have about an inch, maybe more. I haven't ventured outside to check, but I
suppose
it's beginning to look a lot like Christmas, but it's still not feeling much like it.
Labels: Christmas cards, Fallen Trees, It's Beginning to look a lot like Christmas, jdkiggins, Mom, Perry Como, presents, weight loss
Make me smile. Leave a comment...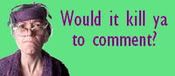 Comment Icon From
Paper Napkin