No-bake Oatmeal Cookies
In an effort to keep Mom busy today we made no-bake cookies. Along with having Alzheimer's, Mom's a diabetic, too, so I substitute diabetic sweetener for the sugar. Of course since Mom can't use the stove, I melted the butter and mixed all the ingredients that needed to be brought to a boil. When it came time to add the peanut butter and oatmeal I let Mom mix that all together.
Her coordination isn't what it used to be so it took her a little longer to mix than it normally would have. She had a hard time scooping the cookie mix from the pot and getting it to the waxed paper before it dripped off the spoon. Watching her made me realize how much Mom is progressing with this awful disease. She ended up using her fingers more than the spoon, but all turned out pretty good.
She was so excited when she put the last of the mix on the waxed paper. She said, "I guess I did okay."
"You did more than okay, Mom," I said. "These cookies look great."
She enjoyed making the cookies and was so proud that she was able to do something she hadn't done in many years.
"So when can we eat them?" she asked. I couldn't help but laugh and when I did, she started laughing too. "We can eat them, can't we?" she asked, giggling.
I assured her that as soon as they set for a while we could have a few cookies. She was so cute sitting there waiting for them to 'set'. She kept poking one with a spoon to see if they had hardened enough to pick up to eat.
We waited about 15 minutes and she picked one up and ate it. "They're good. I'm full," she said. Mom's appetite is getting less and less. Her being full after just one small cookie is evidence of that. The sweet tooth she used to have isn't even working anymore.
I baked a steak in country gravy in the oven along with an acorn squash for dinner. She said it was good, but she ate very little of that too.
Twice Blessed
wrote in her blog about how people with Alzheimer's lose weight no matter how well you try to provide them nourishment. That is so true. I guess it's just another part of the brain being impaired that causes the appetite loss. This disease whittles away at the mind and body. Mom weighed 168 pounds in August when she was in the hospital; now she weighs 150. It's heartbreaking to watch our loved ones waste away each day.
I thought I'd share the recipe for those who don't have it, and for those who may need another idea to add to the list of activities for their loved ones. So here it is.
No-bake Oatmeal Cookies
1 stick of butter
½ cup of milk
2 cups of sugar (can be substituted with diabetic sweetener for diabetics)
5 Tablespoons of cocoa
Cook until it comes to a boil. Remove from heat.
Add and mix:
½ cup of peanut butter
3 cups of oatmeal
Mix together until smooth and creamy. With a teaspoon, spoon onto wax paper.
Wait 15 minutes and they're ready to eat.
Labels: activities, Alzheimer's, appetite loss, jdkiggins, Loved Ones, no-bake oatmeal cookies
Make me smile. Leave a comment...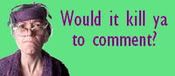 Comment Icon From
Paper Napkin