Today Was Different
Well, today was different for a few reasons. Mom woke up asking me who was the bitch in the house last night. Whoever it was she thought was there, she didn't like this old woman and she thought she was a thief. She'd grabbed her walker and moved it from the bottom of the bed to beside her bed so this person couldn't steal it. I told Mom there wasn't anyone in the house but her and I and she must have been dreaming. She was convinced that someone was in her room during the night. That was quite strange because Mom didn't get out of bed even once last night. Then, while we were combing her hair, she stared at something on her dresser. I asked what she was looking at and she said she was looking at the picture of 'us' and pointed at a picture of her and my dad. Okay. Was the 'us' her thinking her and Dad, or was she thinking her and I. I didn't ask. I'm not sure I wanted to know. I just said, oh, okay, that's a nice picture, and I prodded her toward the kitchen to give her breakfast and pills before we left. On the way to day care all she said was how pretty the leaves were.
There was another reason today was different. It was the first time since my granddaughter Katie was born that I had the opportunity to spend time with her without Angel and Tim around. I took Mom to day care and Angel brought Katie over about 10:30. Angel's interview wasn't until 1:00 but she wanted to make Katie lunch and get her down for a nap before she left at noon. I think Angel was a bit nervous leaving Katie because it was the first time Katie had been alone with me without Angel around.
Katie seemed quite comfortable at my house actually. She ate and fell asleep before Angel left, which gave Angel time to change clothes and get ready for her appointment, and give me the motherly directions of what to do when Katie woke up; change her diaper, give her the canned peaches, and little fruit snack chewy things. Yep, I think I can handle that; I had two little girls way back when. LOL
It felt really strange having a baby in the house again. It reminded me of when I took care of my granddaughter Trinity for nearly two years while Stacey was in Korea. I sat on the couch and watched Katie sleep. Her little dimpled fingers opened and closed into a fist and her foot would lift and kick the blanket. She rolled from her back to her side and onto her tummy, then onto her side again. It felt good feeling like a grandma again.
Katie woke up about 1:30. I handled the diaper change and snack time like an old pro and we were off to better things. Katie and I sat on the couch and played with a little musical snowman for a while. Two Feather pushed a small couch pillow over and it tipped onto Katie's elbow. She giggled and pushed it back. The two of them pushed that pillow back and forth for about ten minutes, giggling each time it flipped. Then, Katie did the cutest thing, Two Feather started to push the pillow again, and I guess Katie decided that was enough pushing and giggling and she put her forefinger up, waved it back and forth, and said, "no, no, no."
Angel called about 2:20 and said she was waiting for another person to interview her and she'd be a little longer. She asked how Katie was doing. I don't know if she could hear Katie giggling in the background, but I told her she had her snack, she was fine, and to be careful on the way home. We were doing fine.
After I got off the phone with Angel, Katie decided she liked my dog and crawled up on the couch by her to stroke her fur. Then we moved over to another chair and Katie played with the little talking piano toy Angel brought with her. The piano keys were labeled A, B, C, D, and E. A was for apple and had a biting crunch sound, B never got pushed, so I'm not sure what it was for, C was for car with a horn beep (I always thought C was for cat), D was for dog with a barking sound, and E was for elephant with an elephant sound. Wow, toys have changed so much since my kids were little. Angel and Stacey used to have the big round Fisher Price toy with the letters and pictures of animals. They had to turn the big red arrow to point to the animal and pull the cord to hear the name and sound of the animal.
Anyway, Katie either got tired of pushing the buttons on the piano toy, or she got tired of me taking pictures of her; whichever it was, she put her hands to her side and gave me this look that seemed to say, "Are we done yet?"
Katie and I moved back over to the couch, I changed her again, and by that time Angel was walking in the door at 3:30. She put everything in the car and left for home.
Katie was only awake for two hours while she was there but we managed to fill those two hours with a lot of playtime. After she left I sat on the couch and talked with Two Feather for a half hour before I had to leave to pick up Mom. On the way out to the car, I realized this old ladies' body isn't what it used to be. My knees felt rug burned, and my back was killing me. Crawling around on the floor didn't bother me five years ago, but a lot has changed in five years.
I picked Mom up at day care and the first thing she asked me was whether she woke me up last night during the night. When I said no, she said, that's odd; I thought I woke you to throw that old woman out of the house. Nope, Mom, you didn't wake me. That's good she said. *shrug* She didn't mention it again.
Mom ate very little dinner and went to bed as soon as she was finished. She said she was exhausted and felt cold. I tucked her in, said I love you and came up to my room. Within minutes I could hear the soft steady breathing of her sleep. I'm tired too; think I'll hit the sack early tonight. All this mothering and grand mothering is tiring. LOL
Before closing though, I'd like to say thank you to all soldiers serving in every part of the world and all our veterans who served in the past. Thank you for what you've done for our country. Yesterday was the official Veteran's Day, but since it's being observed today, I felt it only right to let you all know you're in my thoughts and prayers. Thanks Dad, Uncle Joe, Stacey, Angel, and all of you wonderful military personnel.
Labels: Angel, Dad, grandma, Katie, Mom, Pap Pap, Stacey, Trinity, Two Feather, Uncle Joe, Veteran's Day, Veterans
Make me smile. Leave a comment...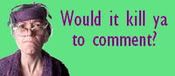 Comment Icon From
Paper Napkin