To Betsy
This morning I was happy that I was able to visit my Uncle Joe yesterday, Mom enjoyed the visit, and I actually found some time to finish writing a book review that's been long overdue.
I've been busy with Mom all day; dressing her for the day, helping her with her bathroom needs, making meals, and keeping her busy. Weekends she tends to get anxious if I'm not sitting and talking with her or doing something with her. I managed to get the laundry finished and she helped me fold clothes, put them on hangers, and fold towels. She said she felt good helping with things because she doesn't want me to have to do everything. I told her how much I appreciated her help and we sat for the rest of the afternoon working on word search puzzles and coloring.
Dinner is finished and Mom is tucked safely and warmly in bed and I thought it was time for me to catch up on my blog reading.
I went to
Betsy's blog
first and found myself in tears when I read that her mother passed away over the weekend. I haven't met Betsy personally, nor have I met Lori, Nancy, Terry, or Shirl, and many of the other caregivers I link to on my blog, but the relationships we've made through our writing about our journey with Alzheimer's has been a rewarding one. We've become family to each other.
We've experienced similar drawbacks in our care giving, shared our concerns, even passed our phone numbers on to each other, yet we hesitate to make that call because we know how busy everyone's day can be.
Each of these wonderful people have shared their journey right through to the end and it's the end that saddens me so much. Shirl's Bob died on April 27, 2007. Lori's Helen died on Monday, September 17, 2007. Nancy's Russ died on Thursday, September 20, 2007. Terry's dad died on Friday, September 21, 2007. And now Betsy's mom died on Friday, November 2, 2007.
Each have become very important to me and hold a very special place in my heart. Each giving of themselves in a way no other could. Some of us have common interests, some have common lifestyles, and some even have common superstitions. Thank you all for being the special people you are.
Betsy ran across my blog on August 20, 2007 and commented, "It seems we share many common traits: full time caregiver for an AD mom, freelance writer and Pittsburgher. I'm delighted to "meet" you!"
Besides being caregivers for a loved one with Alzheimer's, Betsy and I do share common traits, even past those things she mentioned. I was delighted to meet her as well and she's held a very special place in my heart since. We've kept in touch through our blogs, and she was so kind to take time out of her busy day to send copies of the Reminisce Magazine. I thought it was very sweet and thoughtful for Betsy to share with my Mom something that her mom enjoyed for so long.
Today when I read Betsy's words, "Those were our last words to each other," I knew without reading any further her mom had passed and my heart broke for her. Through tears I continued to read her post about how she listened for her mom's sleeping sounds through the baby monitor and my heart ached even more. So many of us caregivers can relate to the feeling of not getting comfortable until we hear our loved one's soft steady breathing. We know the sounds of the bed, the different types of breathing, and when our loved one's are sound asleep. Then we know we can relax for a short time, and maybe catch a bit of sleep until they call out to us during the night.
Silence through that monitor is something none of us want to hear. I could feel the numbness Betsy felt as she stood outside on the porch trying to gain the strength to check on her mom in the morning when she heard that silence. I can only imagine how difficult those moments were and how long they must have felt to her.
Crying, I reached for the phone and called Two Feather. He knew immediately that another of my friend's loved ones had passed. He's received several of these calls in the past six months. Two Feather understands the heartbreak we go through each day; he watches me hold back tears as I watch a part of my mom disappear as the days, months, and years go by. He hesitated for a second and asked, "Who?" "Betsy's mom," I said choking back the tears. He said, "She lives near here, doesn't she? Tell her I said I'm sorry." Then he hugged me and said, "I'm sorry. I know you've become friends."
I must have had a distraught look on my face because he asked me what was wrong. Betsy's post mentioned that the viewing was today and the funeral would be tomorrow morning. She's so close, yet I realized I wouldn't be able to be there for her during her time of need.
Betsy, please know that I'm thinking of you and your wonderful family and I am keeping you in my prayers. I may not be able to stand beside you, hold your hand, and give you that comforting hug you deserve, but I am there for you, my friend.
You were the template your mom used when she made those craft angels. ((Soft hugs)) I love you!
Labels: Alzheimer's, Angel, Betsy, family, friend, jdkiggins, Lori, loved one, Mom, Nancy, Shirl, Terry, Two Feather
Make me smile. Leave a comment...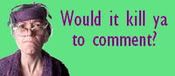 Comment Icon From
Paper Napkin