Errand Day and Baking Cookies
This morning after I took Mom to day care I went straight to the chiropractor. Last week one day when Mom had a difficult time getting up out of her chair I lifted her. Wrong move and my back felt it! I've been going to the chiropractor once a month for about six months just to keep my back in place, but this was an in-between appointment. It's probably a good thing I didn't wait for my regular appointment because I had thrown my back out. I would really love to have one of those massage machines that they have in their office. OH, does it feel good! Anyway, my back is sore, but at least it's back in place for now.
I picked up Two Feather after my appointment and we ran errands all day. We went to the bank, the pharmacy, and grocery shopping for both houses again. We keep everything separate for the two houses, but after all the bags are in the car we still have to sort through everything when we get home. When we have everything for our house put away, we go to Mom's to put her things away and it never fails that we find a bag that should have stayed at our house, or vice versa. It normally takes us a whole day to do the shopping for both places; between the shopping itself, and then running back and forth between the two houses to unload things and put everything away. I'm glad Two Feather helps out because there is no way I'd be capable of lifting the 50 lb bags of dog food for the dogs. Days of me lifting that amount of weight have been over for years.
We thought about scraping Mom's driveway to straighten out all the ruts from the rain, but since we didn't get home until 3:15 after all the errands and shopping, that will have to wait until tomorrow. I'm normally exhausted after shopping day anyway, so it's just as well.
Mom's feeling better this evening. The laxative I gave her Monday finally kicked in and we ended up in the shower again before bedtime. With her appetite being less and less her system isn't working like it used to and it goes from one extreme to the other. Mom was exhausted by the time we finished showering and getting ready for bed. It didn't take her long to fall asleep.
I was in the kitchen baking cookies for her Halloween party tomorrow. While the cookies were baking, I put candy corn in small snack bags and put them in Halloween Trick or Treat bags for each of the clients at the day care. After the cookies cooled, I put them in snack bags too and placed them in the treat bags with the candy corn. I put together 40 bags total; enough for all the clients, the workers, and a few extras. Then I put all of them into a handled wicker basket to carry them.
I thought I'd fall asleep early tonight because of the long day, but you know how that goes; the minutes turned to hours and I was up watching TV trying to sleep. One of these days I won't feel like I'm sleep deprived.
Labels: back out, chiropractor, Errands, grocery shopping, jdkiggins, Mom, sleep deprived, Two Feather
Make me smile. Leave a comment...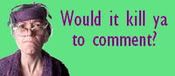 Comment Icon From
Paper Napkin