Friends Links Removed
watching you said...
You make me sick with all your whining and complaining about caregivers not getting recognized....what is your real reason for taking care of your mom? Is it, as it should be, because you love her and want her to be warm, safe, and comfortable? Or do you want a big pat on the back, you martyr!!!!!!! OR is it that you are sucking her bank accounts dry????????
10/01/2007 1:38 PM
Since October 1, 2007 when this comment was placed on my blog, this person is doing exactly what her log in name said she would do.
She is watching me, with an agenda in mind—every day—twice a day, from her work computer in Pittsburgh, PA.
That's 38 times in a matter of 19 days. I say 19 days because she only logs in from work, not from her home.
I've seen that she is checking the various links to my friend's blogs and my blog roll links, so to keep my friends from being subjected to this childish nonsense, I've deleted your blog links from my blog for your protection.
If any of you have found a rude remark from Pittsburgh, PA on your blog that links from my blog , please e-mail me so I may give you the name and ISP address of the offender.
I will continue to visit your blogs as I have in the past and hope you continue to visit mine as well. Thank you for your understanding.
Labels: blog links, childish, Friends, jdkiggins, rude, watching me, watching you
Make me smile. Leave a comment...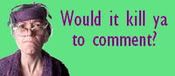 Comment Icon From
Paper Napkin