Weekend and Half the Week Gone--Sincere Sympathies to Caregiver Friends
This past weekend was a nightmare, because of nightmares. Saturday night Mom was up 15 times. She'd no sooner get to sleep and she was awake again because of a dream she kept having about someone chasing her and trying to hurt her. Then, the person in the dream was trying to hurt both of us. I felt so bad for her because each time she awoke, she thought she'd been awake and thought the dream was real. She asked me to walk around the house and check all the locks.
It's amazing how she can be up most of the night, catch a few winks in between, and only show the normal tiredness she shows after a good night's sleep. Normally when this happens, she gets exhausted around 2:00 and I have to keep her interested in different activities, forcing her to stay awake at least until 4:00 so she can eat dinner and sit up a while for her food to digest some before she goes to bed.
Sunday morning between 8:00 and 9:00 she was up and down 20 times thinking she had to go to the bathroom and feeling like she was going to vomit. Neither of which came to fruition. Each of those 20 times, before trying to get out of bed, she yelled, "Joannnnne, help me!" She's not running a fever, she was just checked for a UTI, so that's not the problem. She's always had an overactive bladder. Her brain is simply malfunctioning and she doesn't realize she's been up and down so many times.
Those who care for someone suffering with Alzheimer's know that a person with AD will get up and wander or roam the house, or think they need to go to the bathroom, when they don't, or they simply want to go home, not realizing they are in their own home. Some caregivers are up and down with their loved ones 30-50-70 times a night, with no exaggeration, for various reasons. My heart aches for them.
There is no predicting whether or not your loved one will have a good day/night or bad one. You take one day at a time, and one moment at a time. Everything and anything can change from one instance to the next. Just when you think you might have something figured out, it all changes.
Since the weekend, we've had the physical therapist and occupational therapist in two more times. Wednesday, the social worker from the hospital came and talked to me about resources available through their office and she discussed getting things in place for hospice when it is needed. She'll be coming back with more information on Monday.
*** In Memory of Those Who Have Passed ***
I'd like to extend my sincere sympathies to my caregiver friends who have recently lost their loved ones. My thoughts and prayers will be with you during this difficult time. For Lori, Nancy, Terry, Shirl, and so, so many others who have been down this path, please take care of yourselves. Know that I'm thinking of you and keeping you in my heart.
***
For all caregiver friends who continue on this path with their loved ones, know that I also keep your loved ones, you, and your families in my thoughts and prayers. While you care for your loved ones, please take care of yourselves as well.
((HUGS)) to all. Thank you for being you!!!
Labels: Alzheimer's, Caregiver, Friends, hospice, jdkiggins, Mom, nightmares, sympathies, Therapists
Make me smile. Leave a comment...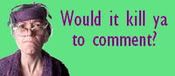 Comment Icon From
Paper Napkin