Happy Birthday, Ray!!
Just wanted to say HAPPY BIRTHDAY to a special person. Raymond K. Wong is not only a friend, but also a truly kind and sincere human being.
HAPPY BIRTHDAY, RAY!!!! Hope your day was a good one.
Here's wishing you many more.
Labels: Friends, Happy Birthday, kind, Raymond K. Wong, sincere
Make me smile. Leave a comment...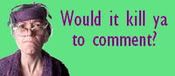 Comment Icon From
Paper Napkin