Memories Cut Limb by Limb
Friday, September 7, 2007
Some memories you can keep forever; others need to be cut away limb by limb to maintain peace of mind.
Today, I'm watching a part of my life that has been around for as long as I can remember be stripped of its branches and laid to rest. The nearly 100-foot pine tree that stood tall, overshadowing my Mom's house, is being taken down. With the storm damage a few weeks ago, we dodged a bullet and I felt it was time to remove a tree that had the potential of being a real danger to Mom's house. The last thing we need is a storm during the middle of the night, or anytime for that matter, that could easily uproot this monstrous pine tree and have it land on the house.
As I watch Tracy Fennell, owner of Fennell's Tree Service, climb with his spikes, I remember climbing this tree as a child and with each branch he falls a little piece of me falls apart. I've always known I'm an emotional and sentimental type person, but these past years taking care of Mom I've realized how very tuned in I've been to my past and my surroundings. It was with great sorrow and many tears I watched each limb come down.
Here is a picture of the same area after the tree is down.
I mentioned that I was saddened that the tree was taken down, but I must admit, it makes the view to the side yard all that more beautiful. The deer and turkey are more visible and it's quite fun to watch them graze in the yard.
Make me smile. Leave a comment...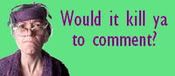 Comment Icon From
Paper Napkin