Alzheimer's--Bad Days, Bad Nights, Humor
Thursday, August 30, 2007
I finally talked to the Chief after another call to the station. I explained the situation about the street sweeper and me stopping to drop off my mom at the Day Care. He said he would check into it and call me back.
Mom had a restless day at the Day Care. The nurses told me she was nervous all day and had a few accidents. That pretty much tells me I'll have my work cut out for me during the wee hours of the morning. When she has a bad day at Day Care, I can normally count on not getting any sleep for the night.
Tonight I didn't get the chance to lay down and wonder how long it would be before the first shout of "Joannnnnne" would come. It came 15 minutes after she was in bed. "Joanne, I need a drink." Thirty minutes later "Joanne, I have to go to the bathroom." Twenty minutes later "Joanne, Did you lock the door, I don't want anyone getting in." Fifteen minutes later "Joanne, I can't sleep, I'm scared."
"I can't sleep either, Mom, cause I'm not in bed." I said laughing.
She got the biggest kick out of that. Alzheimer's Disease is a horrible, horrible disease. There is nothing funny about it, but it is funny how some of us can find humor in just about anything. It's the humor that gets us through each day.
Labels: Alzheimer's, Bad Days, Bad Nights, Humor, jdkiggins
Make me smile. Leave a comment...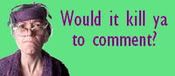 Comment Icon From
Paper Napkin