Pictures of More Storm Damage
We dodged a bullet in the storm two weeks ago. I didn't have a chance to post the pictures then of the trees that were blown down next to my house. Had the wind taken a slightly different direction, these 60-70 foot trees would have been on top of my house instead of laying on the hill just fifteen feet from the front entrance. Three of them were totally uprooted and the other three or four had snapped off at the tops.
Today we finally took a walk around the property to see what other storm damage had taken place. More than two dozen trees were downed by the high winds and we could see the path it took.
I've already posted pictures of the trees down on my driveway and on the path from my house to Mom's house. That same path, though not used in three years, also extends and runs up the hill to my brother's house.
At the lower end of the path there are four to six trees down. It was hard to tell how many since they are twisted and jammed together.
Two Feather will have his work cut out (excuse the pun) for him when he tackles this job. He said for safety sake, since my brother's grandchildren play in his yard at times, he would put stakes and a rope across the top of the path to alert them that the path is not safe.
About ten feet up the steep hill we found another cluster of trees across the old trail, and another cluster above that one.
There were also tops of trees twisted and just hanging waiting to fall.
This was a mild storm compared to the devastation that other high winds and tornadoes cause in other areas. We're thankful that there was no real damage to my house or Mom's.
Labels: Damage, Fallen Trees, jdkiggins, Storm, Two Feather
Make me smile. Leave a comment...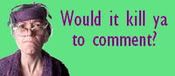 Comment Icon From
Paper Napkin