Always Playing Catch Up
Just the other day I thought about my blog and wondered how long it had been since I updated. Life is so hectic taking care of Mom, I hadn't realized it's been nearly five months since I posted here. There hasn't been a whole lot going on since February, so it shouldn't take but a few moments to play catch up this time. March and April were filled with doctor's appointments for Mom and me. She checked out great, health wise. And there are always the visits to the nursing home to see Uncle Joe. He's adjusting well, eating much better, and even making a few friends there.
Saturday, May 12, I actually called in a home nurse to watch Mom for a few hours of respite care. Several of my online friends came into Pittsburgh to meet and I was able to spend a few hours with them.
It was wonderful meeting everyone. I wish I would have had more time to spend with everyone.
It was great seeing Ray and Sara again. Little Finn is getting so big. Here are a few pictures of the gang.
Of course they had to catch me at my worst, or as some at AW would say, at my best when I'm being myself—outspoken and silly. Everyone, especially Ray, kept telling me I needed to eat more. I'd eaten all I could and decided to offer up the sticky buns to anyone who would have them.
Anyway, that explains me holding the sticky buns at Eat 'N Park. Things are not always what they seem. LOL
May 26th was my granddaughter's First Birthday party. Her birthday was May 16, and my daughter, Angel, made arrangements to hold the party at a local park to make it more convenient for all the relatives to share in the day.
Katie had a great time eating the cake and smearing the icing on her face. Of course everything was so hectic with so many people there, we didn't get any pictures of great-grandma and grandma with Katie. Yes, we took Mom to the party from 1-3. That was about all she could handle.
The rest of May and June sauntered by without too much going on. Angel and Stacey did visit again with the kids a few more times. They manage to visit Mom and me at least once a month.
And here it is July. No fireworks here. Nothing to celebrate really. Unless of course you can get excited like I do about watching the rabbits, squirrels, turkey, and deer play in the yard. We have three fawns this year. They jump and play and run too quickly for me to snap a picture. I really have to get some of the tree limbs trimmed so I can see them better.
Oh wait…there is something to celebrate! I quit smoking. I think it was on Friday the 13th, but who's counting?
Well, that's it for now. See you soon.
Labels: Absolute Write, Angel, Daughters, Friends, Mom, Ray, Sara, Stacey
Make me smile. Leave a comment...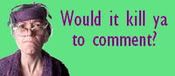 Comment Icon From
Paper Napkin