No Mickey Mouse Operation Here! Counting My Steps.
This morning, at 10 a.m., I opened a box of Rice Krispies and found a Mickey Mouse pedometer (step counter) inside. I decided to give it a try and see if it recorded the number of steps accurately. I slipped in onto the waistband of my pants and walked up the 13 steps to my room. It recorded 13 steps, exactly.
I proceeded to gather the trash around the house, wash the morning dishes, threw a load of laundry in the washer, looked for something Mom had misplaced, fed the dog and cat, put the gathered trash on the sun porch, moved the clothes from the washer to the dryer and put another load in the washer, let the dog outside and back in (twice), and walked from whatever room I was in to whatever room Mom called me from.
It's now 1:15 p.m. and the little Mickey Mouse step counter reveals 1,235 steps in just a tad more than three hours.
No, there's no Mickey Mouse operation here, but the step counter certainly showed me why I'm exhausted by the end of the day. Can't wait to see how many steps I've taken by 6 p.m. How active are you? Buy Rice Krispies and find out. :)
Labels: Active, jdkiggins, Mickey Mouse, Pedometer, Rice Krispies, Step Counter
Make me smile. Leave a comment...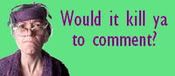 Comment Icon From
Paper Napkin