Alzheimer's Article Requested for Use by the Alzheimer's Resource Center
Just a note for those who may be interested: The
Alzheimer's Association Resource Center
has requested permission to print my article, "Alzheimer's: Tips on Understanding the Disease and its Limitations," and distribute it as a handout at their educational meetings and support groups. The Alzheimer's Resource Center has also posted a link to my article on their website in their "
Daily News
."
I'm happy they found my article to be informative and helpful, and I'm thrilled that it may help families wordwide with loved ones stricken with Alzheimer's.
Labels: Alzheimer's, Alzheimer's Association, Alzheimer's Resource Center
Make me smile. Leave a comment...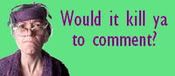 Comment Icon From
Paper Napkin