Playing Catch-up since July: PowWows and Camping
The past several months I've been working on reading a pile of books and writing reviews. Since July, I've failed to update the happenings of my life, so now I'm trying to catch up a bit.
My youngest daughter, Stacey, came up in July. While she was here, we all went to see my Uncle Joe at the nursing home. He was thrilled to see his Great niece and nephew. He's never real thrilled to get his picture taken, though.
You can see the devilish look he's giving me for sneaking in a picture.
During the time she was here we decided to take the weekend and go to a PowWow in Mansfield, Ohio. My granddaughter danced with me in the circle. This is the picture that ended up on the Mansfield newspaper website.
She was excited that she'd made the newspaper.
Here's a picture of Two Feather dancing by the drum.
That PowWow was the first time Two Feather and I had gone anywhere without my mom in nearly two years of taking care of her. We enjoyed going, but I felt uncomfortable not having my mom with me, so in August, we cleaned out the camper, packed it and made our minds up to take Mom on a trip with us. Both of my daughters agreed to drive eight hours to meet us at the Columbus Fairgrounds to help with Mom and enjoy the Labor Day PowWow. My oldest daughter, Angel, her husband, Tim, and three-month-old Katelyn drove down from Mechanicsburg, PA. My youngest daughter, Stacey, drove up from Alabama with her three kids, Deandre, Trinity and Quenton.
Here's a picture of me and Two Feather dancing.
We had a great time. Here's a picture of the family at the camper.
Make me smile. Leave a comment...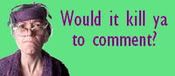 Comment Icon From
Paper Napkin