Back to Nature -- Doves, Groundhogs, Beetles and Cones
Mourning Dove in a Basket
You know me. I simply can't quit taking pictures. While I was visiting with my daughter in May, I spotted a Mourning Dove nesting in her hanging basket. She seemed quite calm as the camera snapped a few shots.
Later, when she flew off to greet her spouse, I peeked in the basket and found she'd left a few eggs. Angel tells me that she's hatched them and she was able to get pictures of the babies. I'm still waiting on her to e-mail the photos to me.
Baby Groundhogs on the Driveway
I'll bet these little critters are offspring of the "treehog" in my earlier post.
When I first saw them from a distance, they almost looked like porcupine.
I just had to get up close and personal to make sure they weren't. They were really young, and naïve. They didn't flinch or move when I walked up to them.

Beetles and Things That Poke Out of the Ground
Yesterday was beautiful and filled with more yard work. Two Feather mowed the lawn in the morning while I continued the never-ending task of pulling weeds from the flowerbeds. Later in the evening, my dog was running around the yard and I noticed her creeping up to something in the yard. She jumped back and ran then crept back up to it again. I watched, wondering what she'd found. There was something white sticking up in the grass.
I've never seen anything like this. Within three hours of the lawn being mowed, beetles had built this amazing looking cone. I know this is some type of ground beetle, but I haven't found what type yet.
Make me smile. Leave a comment...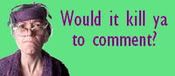 Comment Icon From
Paper Napkin