And Then There Were Three!! It's A Girl!
Update! May, Week Three…
Katelyn Brianna—my third grandchild—my oldest daughter's first born.
As mentioned in the prior post, Angel was having contractions 20 minutes apart during her law school commencement. After graduation, we went back to her house and timed her contractions for the rest of the afternoon. They went from 20 minutes to 10, down to 7, then to 5, then to 6. They jumped back and forth. Angel decided to take a walk. After all, who wants a bunch of people around staring and waiting and watching their minute hands go around while you're trying to concentrate on pain. The contractions were at five minutes apart for a half hour, and then they went back to seven minutes. Angel refused to go to the hospital. "They said not to call or come in until the contractions are five minutes apart for an hour or more," she said. She's stubborn, so was her baby. The contractions softened and went back to 20 minutes apart. We were ready, the baby wasn't!
Angel so wanted to give birth on Mother's Day, but that wasn't happening, so her and Tim took his mom and dad and my mom and me out for Mother's Day lunch. We all left for home that afternoon thinking that we'd be nearly home when we got a call to come back. That didn't happen either. So we figured we'd be waiting it out to the projected due date, which was now changed to May 19.
Even before Angel got pregnant she'd say, "you'd better be here when I have my baby, Mom. I need you to be there." Angel wanted me to be there for the birth of her first child, just as I was for her sister. I so much wanted to be there too. But as luck would have it, babies come when they're ready, not when it's convenient. Monday afternoon Angel was having contractions again. By 4:30 they were five minutes apart and she was at the hospital. Had things been different in my life, I would have jumped in the car and drove the four hours to the hospital, stayed up all night and been in the room congratulating my daughter when her daughter was born. But I had my mother to consider. I sat waiting for phone calls and reports. After five hours, Tim called and said they decided Angel was in early labor and admitted her at 9:30 p.m. By then, Mom had already been in bed sleeping for two hours, and according to the nurse, Angel had a long way to go yet. She probably wouldn't deliver for at least another 12-14 hours. Okay, this will work, I thought. Mom can sleep, I'll get her up at 6 and we'll be at the hospital by 10 am. I'd still get to see the baby born and be there for the second most important event in my daughter's life within a week.
At 11:30 Tim called and said her water broke, she wasn't dilating and she was in a lot of pain. All I could do was tell Tim to tell her I love her, hang in there, and I'd be there in the morning. I felt I'd let my daughter down. I sat on the bed upstairs in my mom's house and cried—for my daughter and me.
It was about three in the morning when I'd finally fallen asleep. At 5:30 a.m. Tim's mom called and said, "Here, talk to your daughter." I thought she was handing her the phone to talk to me for encouragement through labor. Instead, Angel got on the phone and said, "Are you ready to be a grandma again? She's here." I was dumbfounded and responded with, "You had her already! I missed it! Oh honey, I'm sorry. Congratulations!" I was elated and upset at the same time. Angel proceeded to tell me that she had to go because they still had to clean up and added, "You are coming back up, aren't you?"
Of course I was, and I did. After I got off the phone with Angel, I immediately called my daughter, Stacey, in Alabama. It was only 4:30 in the morning there. But she did tell me to call her no matter what time I got the news. Stacey answered to a loud, bawling, "I missed it!" I must have sounded really pathetic because even at 4:30 in the morning Stacey's laugh was awake, as was her voice saying, "Mom, don't be upset. It's not like you missed it on purpose. I'm sure Angel understands." Through more tears I simply said, "It's not right! I was always there for both of you for everything. I was there for you and I should have been there for her!"
After nearly three hours, the car was packed again, I'd made Mom's breakfast and got her moving, we finally left at 8 a.m. to head to the hospital. I called Angel and told her I should be there by noon. The four hours to the exit for her home was a cinch. Taking the Harrisburg exit was fine, but when the big 18 wheeler got up beside me and blocked my view of the road signs, it was two hours of hell from there. I ended up who knows where, turned around, called Tim and luckily he knew where and gave me directions from the pathetic gas station I'd pulled into. Finally at 2 in the afternoon on May 16, I walked into the hospital room and saw my daughter and her first born, Katelyn Brianna, who was born at 5:21 a.m. She was 20 inches long and weighed 7 pounds and 14 ounces. Of course, I cried more tears when I saw her.
Of course, we must show a picture of the four generations of women and the proud dad.
Can't resist one more picture with me holding Katelyn. And we can tell by the picture that Katelyn is already a ham. She's looking directly at the camera.
Make me smile. Leave a comment...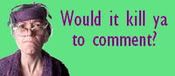 Comment Icon From
Paper Napkin