Ray's Meme
Ray
decided to make his own meme. So being the good sport that I am, I decided to give it a try.
Here's what Ray said:
"I said I didn't do memes, but I was conversing with a good friend of mine, Unique, and I came up with these questions, and I thought, maybe I'll just put out a meme. You can either answer these questions in comments, or post them in your own blog and link it back here."
1. If someone is going to make a movie about you, which movie star/actress should play you?
Sally Field or Susan Sarandon
2. What are your favorite movies and/or books?
Horror movies and books. I love them all. Can't pick just one.
3. Coffee or chocolate?
Both!
4. Hot tub or beaches?
Beaches I love to walk on beaches and feel the sun on my face.
5. Do you like to take naps? Or do you sleep only a few hours a day?
I never take naps. And I seldom sleep at night either. :)
6. Do you sleep in the nude?
Ha ha. Well…um…no comment.
7. What do you consider is your best achievement so far?
Besides being alive, probably being awarded the 1990 Woman of the Year Award in the county where I live.
Ray Wong
,
Ray's Meme
,
jdkiggins
Make me smile. Leave a comment...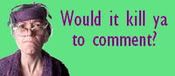 Comment Icon From
Paper Napkin