CoComment, Top Users, Top Tags and Dawno
Dawno
is one of my favorite people. She's always finding neat little gadgets to add to blogs. One of the gadgets she found was
CoComment
and it's taken me a month to figure out how to get it to work. At least I think it's working. My comments are showing up, but I don't see anyone else's comments yet. That could be because no one has commented recently, or the few that have, have forgotten to use the CoComment feature, or they aren't signed up. For now, I have a list of comments I've made, so I know where I've been and who I visited last. I need that being that I'd forget my head if it wasn't sewed neatly to my shoulders.
In the CoComment features there are a few other little sidebar additions. I've added the Top users and Top tags. Of course, I'm the only one showing up in those features as well. For the time being.
So…for those who haven't added the CoComment feature to keep track of your own comments on other's blogs, why not add it now. That way, all of us can see who's commenting and who isn't with just one little click.
Oh yes, I also love Dawno for her sense of humor and her posts about her grandkittles, roombas, and the wonderful family pictures.
Dawno
,
CoComment
,
jdkiggins
Make me smile. Leave a comment...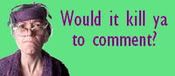 Comment Icon From
Paper Napkin