Back to Nature
Yeah, I know. I've already posted pictures of the deer and turkey in my yard. I can't help it! I'm a nature lover. These deer and turkey are so used to seeing me and hearing my camera spin out of control, they now seem to be posing for me. Most of the time, the deer glance at me and continue to munch on the grass. Last week I had one deer come up to within about five feet of me, then, I think she decided it wasn't such a good idea. She stomped her foot, turned slowly, and walked back into the group.
Here are five of the eight deer that hang around to see if I'm still watching. Really! There are five. Look close. You'll see it. Or at least parts of it. The ears of a young deer are showing on the back of a larger one in the top left of the picture.
Here's part of the flock of nearly 100 turkeys that roam our yard. They're getting comfortable with me, too. They look at me, fluff up their feathers, and go back to scratching and pecking at the ground.
Here are the deer and turkey holding a meeting.
To me, there's nothing like watching wildlife. They're so innocent and can be very comical at time.
Oh yes, remember the picture of the squirrel I promised. She finally sat still long enough for me to snap this shot. Yes, she's sitting on our sidewalk in front of the porch.
Come back again. I'll have a few more pictures here soon. Really great pictures of unusual things. You'll love them. Honest!
Back to Nature
,
deer
,
turkey
,
squirrel
,
jdkiggins
Make me smile. Leave a comment...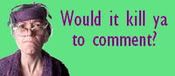 Comment Icon From
Paper Napkin