The Truth Does Matter—Part 2—Nasdijj Navajo Hoax
When I scanned the index of the February 6, 2006 issue of Time Magazine and saw the title,
"When the Story Stolen is Your Own,"
naturally, as a writer, I read the essay by Native American author Sherman Alexie.
It seems another memoir is in question. Worse yet, the
identity
of award-winning writer Nasdijj is in question.
Sherman Alexie, a Spokane/Coeur d'Alene Indian, states in his essay in Time that after he read Nasdijj's book, "I suspected that he was a literary thief and a liar." Alexie explained that his own story, "This Is What It Means to Say Phoenix, Arizona," which was the basis for the film Smoke Signals, featured an autobiographical character named Thomas Builds-the-Fire, who suffers a brain injury at birth and experiences visionary seizures into his adulthood. Alexie thinks it's more than coincidence that Nasdijj's memoir, "The Blood runs like a River Through My Dreams," speaks of a child named Tommy Nothing Fancy who suffers and dies of a seizure disorder.
In this AP article
Hillel Italie reports that Alexis said, "When I first read his work, I almost thought it was some kind of parody by a famous white writer, because he takes so many things from me and other writers."
According to Alexis' essay in Time, he approached Nasdijj's publishers and told them his book "not only was borderline plagiarism but also failed to mention specific tribal members, clans, ceremonies and locations, all of which are vital to the concept of Indian identity."
Balantine Publishing soon found that their author Nasdijj not only isn't a Navajo who was born on a Navajo reservation, at all, but also found that he is a white man named Timothy Barrus, who authored gay pornography. Barrus is from Michigan. After learning this, Balantine Publishing stated they
will stop shipment
on the memoir and offer refunds.
If you want an in-depth report of the Nasdijj/Tim Barrus fraud, you can read the LA Weekly's 15-page story
Navahoax
by Matthew Fleischer.
I'm thankful that the publishing company stopped shipping this book. Not only did they show their credibility as a publisher, they also showed that the
truth does matter!
If you're interested in reading about Indian culture, look to one of the true Native American authors
Sherman Alexie
. He was born on the Spokane Indian Reservation in Wellpinit, WA and is a Native American. His latest book,
Ten Little Indians,
was published in 2003 and his novel,
Indian Killer
was published in 1996.
I also posted this opinion at
BlogCritics
.
The Truth Does Matter
,
Nasdijj
,
Alexis
,
jdkiggins
Make me smile. Leave a comment...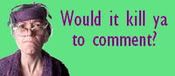 Comment Icon From
Paper Napkin