Happy Birthday, Dad. I Love You!
When I was just a child, he held my small hand in his rough working hand and assured me everything would be fine. His smile was always there to cheer me. His tolerance knew no boundaries. He was strong and wise and knew me better than I knew myself. In my mind, he knew everything. His love was unspoken, but nevertheless always known.

I remember standing at the foot of his hospital bed wishing it could be me, instead of him. Why shouldn't someone like me take his place? He was too good to die. I could never amount to what he did in life.

As I looked at the man in the bed: small, shrunken, withering away, I wondered how such a powerful, loving man could come to this. I couldn't bring to mind the strong, full healthy face of this wonderful man I loved. My eyes could only see the frail man in front of me.

I reached for his hand, knowing, somehow, even though he would soon be gone, he could feel me reach out to him once more. I know he knew I was there, for just a few days before, he opened his eyes and they smiled at me. They smiled just for me. To let me know that it would be all right. To let me know I would be all right. He taught me and showed me things that no one else could have shown me. He guided me, cared for me, nurtured me, loved me.

When I leaned down to kiss him on the cheek, I felt the aching, throbbing and swelling in my chest...I knew my heart was breaking.

I remember wondering how a good and loving God could let him suffer the way he did and then take him away. I remember watching the nurses and doctors record his time of death: 11:53 P.M. Tears streamed down my face as the nurse asked if I was all right. "Yes," I said. "And so is my father now." The words just came out. After I'd said it, the tears turned into sobs, I kissed his cheek once more and told him I'd see him tomorrow.

It's been nearly eight years since my father died. I see a glimpse of him every day. Since his death, not a day has gone by without a thought of him. Every kiss, every soothed scrape, every splinter, every tear, every smile--everything I'd ever experienced with him is in my heart and mind forever. Everything around me is him. He was my rock, my foundation, my strength, my teacher, my protector.

He left me with the most wonderful memories a daughter could ask for. And because of that, my dad, is with me every day: in my actions, my thoughts, my dreams and especially in my heart.

Happy Birthday, Dad. I love you.

But then you knew that too, didn't you?
Make me smile. Leave a comment...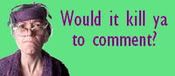 Comment Icon From
Paper Napkin