Nature and Its Beauty
Early each morning I sit by my window and look at the beauty around me. I watch the gathering of the turkeys as they scratch the ground, then fly clumsily into the pine tree, its branches bent from their weight.
Five or six deer slowly walk into the scene with ears alert, white tails swishing, and they watch closely while the two yearling fawns, which have lost their spots, playfully dance with each other. A few squirrels jaunt from branch to branch twitching their long tails as they gather nuts. (I snap a pic of the squirrel next time.)
Each morning I see these same wonderful creatures. Each morning I also look to the trees above the old apple orchard and I'm greeted with yet another beautiful creature. Its full white breast glistening in the sun catches my attention. The slender gray-feathered body sits high on the branch of a winter naked tree. It stretches its wings, flies to the next branch and roosts as if waiting. Like embers in a newly lit fire the red tail of the hawk glows in the rays of the sun.
I've watched this hawk for four days. He glides through the breeze each morning and settles in the same tree. He sits proudly, watching and waiting and facing my window. This time I was prepared to catch his beauty.
Yesterday morning I opened the window and listened to its call. In a distance I hear a response. A few minutes later, high above, soaring effortlessly, red tail glistening, gliding onto a branch a few trees away, another hawk perches.
I watched them sit; seldom move, for more than an hour as I sipped my morning coffee. It's as if they're watching me watch them. So beautiful, so peaceful. Suddenly, in an instant, both hawks took flight, circled the yard and flew off.
At the same time this morning, the first hawk took its place in the same tree. I listened to its call and a few minutes later the second hawk landed. They sat once again for an hour, then left. But not before I captured the beauty of both.
I grew up on this land, played in these woods, and have always enjoyed the beauty around me. There are times when I wish I were camping by the lake or sitting on a rock by the river, then, I look out my window and realize I have everything I need right here in my own back yard.
Make me smile. Leave a comment...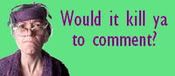 Comment Icon From
Paper Napkin