AW Monday Meme
Dawno
picked up a meme at
Halspacejock's site
for this week's jogging of our brains. Here it is.
Yikes! Yesterday was Monday! I was off work for a 3-day weekend and I think it just seemed like Sunday...so I forgot to do my Meme! What got my attention was that I wandered over to Halspacejock's site and he had a meme, so I 'nicked' it with a little editing.
Last Live Music Show Seen: Let's see, I really have to rack my brain for this. It's been a long time. I went a Temptations concert. Or, how about Three Dog Night.
Last CD Purchased: Melodies of the Heart – The best of pan flute.
Last Thing Cooked: Beef vegetable soup.
Last New Thing Eaten: Hot Pockets. I'm not real wild about them.
Last Thing Bought: A gallon of milk.
Last Gift Received: A box of copy paper and crazy looking head massager called The Sqwiggler. My daughters know me well. I print out a lot of interesting articles and The Sqwiggler is supposed to be great for relieving headaches. (By the way, it works great!)
Last Piece of Clothing Bought or Received as a Gift: A Steelers Football cap.
Last Embarrassing Experience: Having a book loaned to me; taking forever to read it; ending up loving the book and wanting to buy it; offering to purchase it from the loaner or replace it with a book she wants of equal value; still wanting to replace it but she's too kind hearted to allow me to do that. :)
Last Totally New Experience: Meeting four people from AW, all of which I consider very good friends.
Last Foreign Country Visited, if any: Never been out of the US.
Last Big Achievement: Completing my sixth novel.
For this meme I'll tag
Esther
,
Andrea
, and
Pam
. Anyone who wants to jump in, consider yourself tagged.
AWMondayMemes
,
jdkiggins
Make me smile. Leave a comment...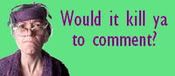 Comment Icon From
Paper Napkin