The Archive Meme
I was tagged by
Kira
who was tagged by
Mac
, etc.
The meme goes like this:
1. go to your archive
2. find the 23rd post
3. find the 5th sentence
4. post the text of the sentence in a blog entry along with these instruction
5. tag other people.
Mine is from my post about nature walks and other beautiful things.
"It is the first time it's bloomed since I planted it 15 years ago."
This meme has a number of tags already so I hope I'm not duplicating tags. I tag
Jen
and
Paint
.
The Archive Meme
,
jdkiggins
Make me smile. Leave a comment...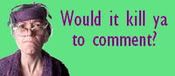 Comment Icon From
Paper Napkin