A Baby Girl is on the way!
I've been waiting for this day with great anticipation. My oldest daughter, Angel, and her husband, Tim, are going to have a baby. They've been hesitant deciding if they wanted to know the sex. She called yesterday morning when she returned home from having a sonogram done. Woo Hoo! Her first baby is going to be a girl. She's due May 25. Now, in what little spare time I have, I can start making the baby's crib quilt!

New technology is wonderful! Sonogram pictures are much more clear than they were 27 years ago, and they can be scanned and sent through e-mails. I got to see the pictures of the baby on my computer last night. Sooo CUTE!!!
Make me smile. Leave a comment...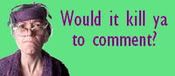 Comment Icon From
Paper Napkin