Words Do Matter
...From the Heart to Truth
On December 14, I read a post at AW that disturbed me. The poster said she'd done something stupid and she proceeded to call herself a "retard". I immediately wrote a PM to the poster to inform her that her choice of word usage was considered crude and it would be insulting to our host, Jenna Glatzer. Jenna's brother, Paul, has Down syndrome. I knew Jenna would be upset when she saw this person's post, but rather than state my thoughts and feelings on the thread, I tried to make the poster aware of the situation in private.
I posted a comment on the thread that stated "I won't begin to list blunders I've made. The board may go down again.
"
It was my way of trying to show the poster she'd blundered. Mentioning that the board may go down again was an additional hint that the board is Jenna's house, and my disappearing smilie was my way of showing I would disappear if I'd said what she had.
I'm not able to be online as much as I used to be and my attempts to PM the poster failed because her in box was full. I didn't want to make an issue publicly about her choice of words, for one reason and one reason only: I'm lousy at defending myself, and normally end up in tears by letting others stomp on me and hurt me by their words and actions. I defend by truth, and the truth hurts those who refuse to accept it. I speak truths and stick up for myself and I am ridiculed more because of it. So, I threw in the towel and quit speaking to those who continue to twist my words and judge me simply because the truth hurts them.
Tonight, I feel horrible. Instead of standing up and stating the truth for someone I respect, and responding publicly to something I knew would hurt Jenna, I simply responded with what I thought might get the point across to the poster. I tried to be nice once again, when in my heart I knew I should open my mouth. I let past personal attacks on me, to stick up for the truth, those I respect, and myself, prevent me from pointing out a wrong done to someone I care about.
After logging into AW this evening, I went straight to the freelance forum, where I am moderator. I saw Jenna's name listed as the last poster on the thread I speak of. My heart sunk knowing that I hadn't softened the blow for her. When I read Jenna's comment, I smiled. I clicked on the link she provided and signed her petition and pledge "
My Words Matter
".
Words do matter. Regardless of what they are, who they're about, or the subject at hand, words can hurt. And that is the TRUTH. Please do not use offensive words. Thank you, Jenna for posting your pledge. It reminded me to continue to speak the truth, continue to stand up for those I care about, respect, and love, and continue to stick up for myself. It also reminded me to continue to follow my heart…which strangely enough I'd written about earlier this afternoon. My "Following My Heart" post was inspired by a picture and hurtful words said to me recently. See my post below. ;)
My Words Matter
,
Jenna Glatzer
,
Absolute Write
,
jdkiggins
Make me smile. Leave a comment...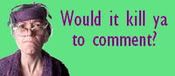 Comment Icon From
Paper Napkin