AW Meme # 2 Holiday Songs
Dec. 12th AWMondayMeme: Holiday songs
List the holiday songs you know by heart, but only the ones where you know more than just the first verse.
I used to drag my daughters, Angel and Stacey and a few of their friends out Christmas caroling every year. I also used to belong to a choir and sang in the cantata each year, so I knew a number of holiday songs from start to finish. Now that you've asked to make a list and I have to be totally honest, I had to sing all day today to actually find out how many I still remembered. Mom and I played Christmas music all evening.
Here we go.
1. All I Want For Christmas is My Two Front Teeth – 6 verses
2. Chestnuts Roasting on an Open Fire – 4 verses
3. Have Yourself a Merry Little Christmas – 4 verses
4. Jingle Bells – 5 verses
5. Rudolph the Red Nosed Reindeer—4 verses
6. Rockin Around the Christmas Tree – 3 verses
7. Grandma Got run Over By A Reindeer – 10 verses
8. Silver Bells – 5 verses
9. White Christmas – 3 verses
10. Twelve Days of Christmas – 12 verses
11. Oh Come, O Come Emmanuel –7 verses
12. Let It Snow – 4 verses
That's good for now. I'm all sung out for tonight. :) But as soon as I have time, I'll write down all the words to a beautiful song I sang the solo for many years back. Wish there was some way to record it here to hear, it's an absolutely beautiful song.
AWMondayMemes
,
jdkiggins
Make me smile. Leave a comment...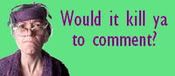 Comment Icon From
Paper Napkin