Mom, Daughter, Dog and Tree
What is a post about putting up the Christmas tree without showing a picture of the very thing that put a smile on Mom's face?
This is my daughter, Angel, sitting on the couch behind Mom. Woo Hoo! She's finally beginning to "show". She's due to have her first baby on May 25. :)
Of course, Mom's little buddy couldn't resist jumping up on her lap to be part of the festivities.
Make me smile. Leave a comment...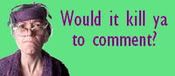 Comment Icon From
Paper Napkin