MEME TAG: 15 Things About Books
I've been tagged by
Ray
to list 15 personal facts or preferences about books. I love this MEME! Thanks Ray. Only 15? I could go on and on about books, but I'll try to restrain myself.
1. I once owned the entire collection of Nancy Drew mysteries. (Wish I still had them.)
2. I read Black Beauty in the fourth grade. I still have it!
3. I like reading almost every genre.
4. I love to read horror, mysteries, thrillers, and crime books.
5. I've never had an interest in fantasy or science fiction book.
6. I have every one of Stephen King's books. He's the only author I collect in hardback. My daughter's buy his newest book for me for Christmas. I used to start reading them as soon as they were unwrapped, but somewhere along the way I quit doing that. So I have several to catch up on.
7. I have every Patricia Cornwell book, but I haven't read them all, yet.
8. I also have every Dean Koontz book.
9. I love the feel of a book, the look of the words on the page, and the different styles of chapter headings. I love the smell of a brand new book, too. No, I don't smell the used books. LOL
10. I won't watch a movie unless I've read the book first.
11. I used to read even while cooking dinner, washing clothes, and vacuuming.
12. I have the complete works of William Shakespeare.
13. An antique 1956 6" thick unabridged
Webster New Twentieth Century Dictionary
sits on a speaker's podium in my office at home.
14. I have a very old book of Edgar Allan Poe's poetry. It's a very small green hardback entitled
Poe's Poems
. The Complete Works of Edgar Allen Poe with Memoir by J. H. Ingram. I believe it was published in the late 1800s or early 1900s. There's no date listed.
15. If I begin reading a book, I will read it to the end, whether I like it or not or become bored with it. That's just the way I am.
Jill, just so you know, the book you loaned me is in fact interesting and I'm almost finished. It will be returned soon. ;) Tagging
Jill
,
Julia
, and
Unique
for this MEME.
Make me smile. Leave a comment...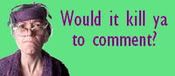 Comment Icon From
Paper Napkin