It Got Me! Flu...Bronchitis...Pneumonia. BLAH!!
It got me! The flu turned into bronchitis and now it's pneumonia. Sort of explains why I haven't been hanging around here and AW for the past week. I'll be back, ready to roll after this third antibiotic kicks in. See you all soon.
Make me smile. Leave a comment...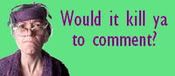 Comment Icon From
Paper Napkin