Milestone # 7
I'm on a roll! I'm writing until my fingers hurt. I'll probably write all night. :)
This week will be another milestone for me. I'm determined to complete a novel I began in 2001. I'm nearly finished. Tomorrow is the last day of the KIA marathon and I think I'll be turning in my weekly tally early. When this novel is complete, it will be #7.
Make me smile. Leave a comment...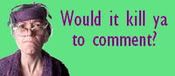 Comment Icon From
Paper Napkin