My Own Horror Movie Marathon
Usually every year during the month of October one TV channel holds a horror marathon to celebrate Halloween. This year I haven't seen many horror movies listed at all, so I decided to hold my own horror movie marathon.

This past week, after I've tucked Mom in bed each night, I've gone to my room upstairs and slid a movie into my VCR.

Here are the movies I've watched so far:
Wrong Turn
Jeepers Creepers
Jeepers Creepers II
Phantom
Texas Chainsaw Massacre
Saw
Silver Bullet

Last night I started to watch Dreamcatcher but fell asleep. Tonight I'm going to rewind it and watch it from the beginning.

I have a very large collection of movies on VHS and DVD. My daughter jokes that when I die, the only thing she wants is my movie collection. Last year she counted 300 movies. That number has grown since then. One day I'll have to count them again. And yes, Kira, I keep my movies in alphbetical order under genre. ;) I even have a printed list, but the list has only 260 movies on it…it needs updated.
Make me smile. Leave a comment...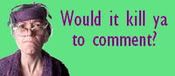 Comment Icon From
Paper Napkin