Nookie Ninjas Still Dancing
Our team didn't make the winner list this week but we're still in the running. The Week Four Challenge has been set.

The challenge is fifteen pages and a bonus of twenty-three after that. I'm not doing so well in week four. We're two days into the challenge and I have only four pages. Hopefully my brain will kick in before midnight on Saturday.
Make me smile. Leave a comment...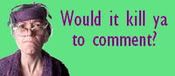 Comment Icon From
Paper Napkin