Stories of Strength Anthology Update
Received an e-mail from Jenna Glatzer with the
Stories of Strength
manuscript attached. She and her wonderful crew of volunteers have done a wonderful job on this anthology. I'm proud to be a part of such a worthy cause. 100% of the proceeds will be donated to disaster relief charities.
My essay, "Perseverance," is good to go and will appear in the "Strength to Start Over" section of the anthology. I began reading the stories by other AW members…need to get more Kleenex before I continue. Wonderful compilation of Stories of Strength!
AbsoluteWrite
and its members rock!
Here
is the link to the Stories of Strength anthology website.
Meet the
contributors
.
How you can
help
.
Keep an eye out for updates.
Make me smile. Leave a comment...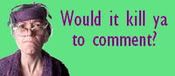 Comment Icon From
Paper Napkin