Fifth Place announcement for Absolute Write Idol competition
The Beaver County Times finally published the Absolute Write Idol announcement in the "OF NOTE" column of the local news.
I guess they couldn't spare the space for two announcements; the press release sent to them in March about my co-authored novel placing fifth in the Grand Beginnings Romance contest was mentioned in this release as well.
Make me smile. Leave a comment...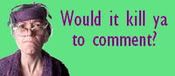 Comment Icon From
Paper Napkin