On a better note!
Fats Domino
was rescued
. He was reported missing Thursday and reporters were told that he was rescued by boat from his flooded neighborhood.
Author John Grisham
donates
$5 million to relief. Grisham, who normally keeps donations of this nature private, said he wanted to "inspire" others to donate and help "fellow Mississippians".
Make me smile. Leave a comment...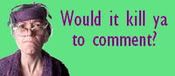 Comment Icon From
Paper Napkin