Commentary on Hurricane Katrina: Something's Wrong With This Picture.
Once again this nation's government has been caught on vacation with its hands in its pockets playing pocket pool. The devastation caused by Hurricane Katrina is that of such monumental proportion that blame is being tossed in all directions.
Why is it that the government officials can stick their noses everywhere but where it belongs—here in the United States?
I'm appalled at the devastation of this hurricane and even more appalled that these people have gone days before receiving very little, if any, help. What the hell is happening our country?
During the 9-11 attack, Bush sat in a classroom of small children and didn't budge when he was told about the attack.
Of course he didn't waste any time calling a war, spending billions of dollars to keep that war ongoing, keeping our soldiers in a foreign country, then allotting billions of dollars for Iraq to "rebuild" what our nation helped destroy. What the hell?
When the Tsunami struck, Bush was on vacation, holed up on his Texas ranch and waited three days before responding to that disaster.
Yet in March, the President didn't mind stepping away from his vacation to stick his governmental nose into the Terri Schiavo case. A case in which many believe, including myself, should not have been placed in the government court system.
Here's what the President had to say about Terri's case.
President's Statement on Terri Schiavo
The case of Terri Schiavo raises complex issues. Yet in instances like this one, where there are serious questions and substantial doubts, our society, our laws, and our courts should have a presumption in favor of life. Those who live at the mercy of others deserve our special care and concern. It should be our goal as a nation to build a culture of life, where all Americans are valued, welcomed, and protected - and that culture of life must extend to individuals with disabilities.
Where was the President while another disaster strikes in another of our country's states? On vacation, again! So, if the President is to be taken at his word, why haven't the refugees, who are at the mercy of others, deserving of his special care and concern? Why did he take his good old time and not respond until he was
lambasted
by citizens, press and fellow politicians, Democrat and Republican, for his lack-luster leadership.
And who else was on vacation?
Congress
!
And where was Vice President Cheney while all of this was going on? Evidently, Cheney was on
vacation
as well.
Secretary of State, Condoleeza Rice was also
still on vacation
.
So if President Bush, Vice President Cheney, Secretary of State, Condoleeza Rice, and Congress were ALL on vacation, who in the hell was running the country?
I'm not blaming the President for the disaster of Hurricane Katrina, this was a natural catastrophe, but I am blaming him for being a war President and not a domestic, caring "for the people" President. Many people are to blame for the lack of, and delayed, response time to help relieve these people in need.
Katrina's Wrath; Preparedness in Question.
Some of the refugees, themselves, for whatever reason for not evacuating, have also been blamed for not heeding the evacuation warnings. Whether sick, elderly, poor, holding on to anything they did own, or non-belief of the storm's capability, it doesn't matter why they didn't leave. Yes, they were told to evacuate, but the way I see it, many didn't own cars and relied on public transporation to move around. That transportation wasn't available or given! BUT all this seems to be a moot point when there are thousands of people missing, cities destroyed and very little organization with what little help has been given.
I don't care who is to blame, what could or couldn't have been avoided by better preparation, or what agency, official cut spending in areas where it was needed. All that is too late now. What I do care about is that this government should learn from its mistakes. Take those mistakes and build a better form of communication and respect for the people of this country. And take what has worked in the past to make it work better when another situation blasts our nation.
There are thousands of people missing, babies dying, dead bodies on streets and floating in the water, fires erupting everywhere, looting, and killings. There is nothing natural about that!
Make me smile. Leave a comment...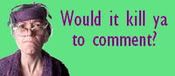 Comment Icon From
Paper Napkin