Nature walks and other beautiful things.
I walk back and forth to my mom's house nearly every day. It's a beautiful walk through the woods. Today, I decided to take my camera and capture a few pieces of beauty on the way.
This is the Wisteria bush in my yard. It is the first time it's bloomed since I planted it 15 years ago.
Here's the path to Mom's.
Here's the Tom turkey I ran into.
Here's the box turtle in my yard.
Make me smile. Leave a comment...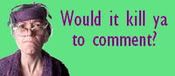 Comment Icon From
Paper Napkin