Week 4 of Idol contest. I'm still in! Woo Hoo!
Week 4 Theme:
Okay, finalists, the next challenge has arrived!
This week, your story element is:
The 7th grade.
This can be a first-person story about you in the 7th grade, an article about 7th graders, a short story starring a 7th grader, etc.
Word count: No more than 1000 words.
Deadline: Tuesday, May 17, 11:59 ET.
Good luck!
__________________
Jenna Glatzer


As soon as I read Jenna's post for this week's theme I immediately thought of Everett L. Gracey's book From a 13 year old Hobo to an Entrepreneur. I knew I would write about his leaving home in the middle of the seventh grade. But I wanted this story to be special because he'd left such an impression on my heart. I knew he'd been decorated in WW II and survived the Great Depression, but I have no idea if he is still living. So I searched the web and found his web site and an e-mail address. Knowing that this man was an entrepreneur I held my breath waiting to see if he would answer my e-mail of questions. Within a few hours, Mr. Gracey responded, not only with answers to my questions but also requesting my address so he could send me an autographed copy of the 3rd edition of his book. I don't think I've been this elated in years. His story is wonderful and with his answers he made my writing about him even more thrilling. Thank you, Everett Gracey.
Make me smile. Leave a comment...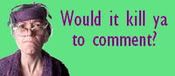 Comment Icon From
Paper Napkin